Won Bin's Hairstyle
With a handsome face like Won Bin's, it feels impossible to see him looking unattractive, no matter his type of haircut, but is it true? What kind of hairstyles did he used to have, and which made him look the most attractive? Let's check it out.
Short Hair
We often to see Won Bin with short hair. Most of his appearances in dramas or movies require him to wear his hair short.
Just like when he played Han Tae-seok in Autumn in My Heart, or when he played as Song Myeong-tae in the drama Tough Guy's Love, Won Bin with this kind of hairstyle is the most attractive version of him. Breathe if you agree!
Let's see different styles of short hair that he's ever had.
Long Hair
It's a bit rare to see Korean male celebrities with long hair, as they mostly keep their hair cut short. Even for non-celebrities, Korean male tends to keep their hair short. If you are maybe questioning whether long hair will be a good fit for Korean male or not, you've got to see this charming guy with his hair long, and he IS still charming!
Look at his hairstyle when he wasn't shooting any movies or dramas! He looks so comfortable with this kind of hair. He hair was long when he got married.
He also once acted in a movie called Man From Nowhere, and he needed to get his hair long and a bit messy for his character, but of course, he still looks cute.
Curly Hair
If it's rare to see Korean male with long hair, how much rarer to see one with long, curly hair? What do you think about it? But yeah, believe it or not, this handsome guy named Won Bin has tried that hairstyle and STILL looks so hot.
He once appeared at his first fan meeting after a long break, and he showed up with this kind of hairstyle, which shocked almost everyone on the internet. He looked so calm and enjoyed his style while waving at his fans. Some people commented that the hairstyle wasn't very good, even though he still looks handsome, as usual.
Indeed, Won Bin hasn't ever really cared about what people are going to say about him, and that's totally cool! What a decent man he is!
Won Bin, The King of Commercial Film (CF)
Commercial Film is a popular term in the Korean entertainment industry to define advertisement film. When we talk about Won Bin, it's never a big step to end up talking about Commercial Film or CF, because he, himself, is a king of CF. He has starred in various of CFs for products such as coffee, a bakery, skincare, etc., and many people on the Internet started calling him CF actor.
Some sources have reported his income for starring in a CF is 600 to 700 million KRW, or equal to around $540,000 to $630,000 USD. With compensation like that, people are saying that they could just do nothing but film CFs for the rest of their life.
That's why many people are disappointed with the fact that Won Bin is still inactive in the acting field, whether it's in dramas or movies. They've started to miss his acting and are bored with seeing him on CFs without starring any dramas or movies.
But for now, let's just adore his good looks in some CFs that he starred in a gif.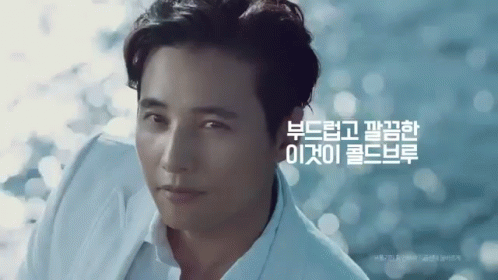 Who wouldn't fainted if they got stared by Won Bin like this? I definitely would!
Won Bin, when he starred in a skincare commercial for a product called Biotherm Homme. He looks so fierce and cool, right?
He drank his coffee so elegantly. Oh, remind me again that it is only a CF!
Won Bin is the only person on earth that can take eating chips to another level.
Won Bin's Fashion
With a nice body and a handsome face like Won Bin's, it's definitely a worth to look to see him in good style. Since he's a model himself, it's quite common to see him looking great, especially when he gets to attend a fashion show or in an airport.
Just a simple outfit, but he's really got style!
But it's not Won Bin if he's not being mysterious and private, so there are some times where he just wants to be himself and looks totally careless in a really casual style.. yet still looks so hot, though. Whoops, never cared about people's opinion, once again!
Won Bin's Social Media
Unfortunately, it's a bit hard for Won Bin's fans to stalk him on social media since he doesn't have any official social media page, whether it's Facebook, Twitter or Instagram. He's a bit of a private person and doesn't like to share any of his activities to the media. Be wary of finding some fake accounts for him, because he doesn't have an official one. But, if you want to search for him on any social media, you will still find his fan page. Although it's not the official one, you will still be able to get the latest update about him!
Won Bin's Latest news: Will He be in a New Movie or Drama?
After being inactive for such a long time, Won Bin finally broke his hiatus after he held a fan meeting in July 2018. He looks so comfortable with his hairstyle, even though some fans are still hoping to see him in a new drama or movie rather than just seeing him in a fan meeting.
Even back in 2015, he rejected an offer to act in a movie called WITH GOD. It gained a lot of hate comments from people on the Internet, saying that he only took advantage by starring in a CF that paid him a lot of money. Nevertheless, it only means that people miss seeing his face and his brilliant acting on camera–definitely not to advertise something!
While his pretty wife, Lee Na-young, has been inactive on both the small and big screen for about 6 years, she finally made a come back in 2018, when she starred in a movie called Beautiful Days. She'll be making a drama comeback, too, in a tvN drama with actor Lee Jong-suk in 2019, called Romance is a Bonus Book. In an interview regarding her latest drama, Won Bin's wife talked about her husband and shared that while reviewing her script, she asked for Won Bin's opinion and he gave her a lot of support about it, even when he said that it's difficult.
She also said that there are a lot of people on the Internet who have criticized how Won Bin hasn't been on any dramas nor movies in such a long time. She explained that it's not that he didn't get any offers to star in any dramas nor movies, it's just that he still hasn't found the right one yet. "Won Bin also wanted a project with a meaningful story, but there aren't many projects like such," she explained.
Let's just hope he will come back in a new drama or movie real soon, people!