Meet The Literal Soulmates, BTS's V and Jung-kook!
Who doesn't know BTS's V and Jungkook nowadays? in this article, Channel-Korea will discuss the friendship between these two members of BTS. Adorable and often seen looking close to each other, the pair made many BTS fans, known as 'A.R.M.Y' or (Adorable Representative M.C for Youth), become 'Vkook' shippers now. The term 'Vkook' comes from the names V and Jung-kook, which are abbreviated as 'Vkook'.
Let's learn more details about them!
The "VKook" Couple
The group's name, BTS, stands for the Korean expression 'Bangtan Sonyeondan' literally meaning "Bulletproof Boy Scouts". According to member J-Hope, the name signifies the group's desire "to block out stereotypes, criticisms, and expectations that aim on adolescents like bullets".
BTS formed in 2010 under Big Hit Entertainment, The lineup was finalized with Jin, Suga, J-Hope, RM, Jimin, V, and Jungkook in 2012. By 2017, BTS crossed over into the international music market, leading the Korean Wave into the United States and breaking numerous sales records.
The members are of different ages and characters from each other, making it the most popular group now. BTS is increasingly loved by its fans and, because of thatm many shippers began to appear after seeing their chemistry with each other.
We all know it's a normal thing in South Korea to have some shipping in the group, or with another group. Not only 'Vkook', but there are also more shippers that have been made by fans in BTS, like 'Vmin', which is V – Jimin, 'Namjin' ,which is RM – Jin, 'YoonMin' for Yoon-gi – Jimin, and many more. But the most famous one is 'Vkook', also known as 'Taekook'. Many fans also love to see the 'maknae line', which means the 3 youngest in BTS's interactions. They are Ji-min, V, and Jungkook.
Let's get to know them. Park Ji-min, better known as Jimin, was born on October 13, 1995, in Geumjeong District, Busan, South Korea. In the 'maknae line' Ji-min is the oldest. He is two months older than V, and Kim Tae-hyung, better known by his stage name V, was born on December 30, 1995, in Daegu, South Korea, and grew up in Geochang County. The last, the true 'maknae', Jeon Jung-kook, better known as Jung-kook, was born on September 1, 1997, in Busan, South Korea. He is the youngest of all members.
Many of BTS's fans who have watched their chemistry, especially interactions between V and Jung-kook, became part of the 'Vkook' shippers. let's see more!
Their Handshake
Jungkook and V have a handshake that they always do, and their fans love their creativity when it comes to their personal greetings with signature handshakes. This handshake really famous among fans.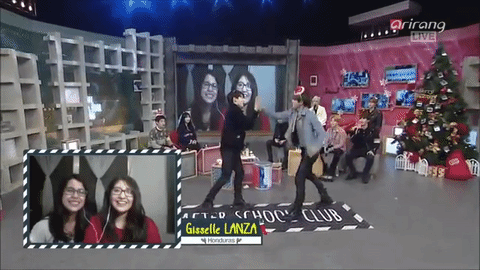 Even other members know how to do their complicated handshake. As we see above, J-hope also joins them in the middle. They said that they created the handshake themselves, and not many people can copy it.
V and Jung-kook are also often seen doing this, and some ARMY have tried to figure out what their signature handshake means.
If we take a close look at their handshake, they have to do a pinky swear and seal the promise with the stamp gesture. For those who don't know, this is a mix of two sign language gestures, 'I Promise' and 'I Love You'. They are so cute, right?
Photoshoot Together
This is their photoshoot for Anan Magazine (Issue No.2057)
This photoshoot is for CREA Magazine
MEN OF THE YEAR #BTS for the GQ Korea Magazine December 2016 issue
Those are Photoshoots for summer package BTS in Dubai 2016
V and Jungkook's Photoshoot for BTS's 3rd Mini Album Concept Photos
Vkook in Vlive
This is a 'Vkook' moment in V Live. it's a V live from 2017, when they were in Osaka, Japan. The V live begins with Tae-hyung, who was alone in his room and accompanied by his doll. In the middle, he asked his fans to give him an idea of what should he do, and someone asked him to "attack the next door", and he comes up with the idea to come to Jung-kook's room.
After that, Tae-hyung immediately went to Jung-kook's room, and asked him to do V live with him.
Taehyung asked Jungkook to sing a serenade and revealed that he already sang a serenade for ARMY who watched their V live. and then Jung-kook asked "Did everyone sing?" He meant the other members, and V lied to him, saying that the other member already sang it.
In the end, Jung-kook sang for the ARMY who were watching their V live at the time. He sang some songs, one of them being Dear No One by Tori Kelly. He sang it accompanied by karaoke music played by V.
Before V ended their V live, Tae-hyung came out of Jung-kook's room, and Jung-kook waved his hand to say goodbye to ARMY.
Aren't they are so cute together? They look really comfortable each other. especially the moment when Tae-hyung is joking around with Jung-kook by lying to him, and making him sing for their fans. There are many more moments in the V live, not only these two but with the other members, too.
Funny Moments Together
On the BTS Memories 2014 DVD, there is a moment where V is in a dark place, an abandoned factory in Yangpyeong. At night, the factory is filled with a creepy vibe and he's doing a haunted house exploration. V wants to test his courage. At first, he was going tol do it alone, but the place was completely dark, and V started getting scared so he called Jung-kook, instead. They couldn't see anything there and it seemd like a ghost could pop out from anywhere. As we see, their interaction is adorable in this scene.
They are really cute when Jung-kook hides from V. When V finally found Jung-kook, he yelled at him and said how scared V was of being alone. After that, the other member started to come along, one by one.
'Vkook' moment in ISAC 2016, aren't they cute? The moment when Jung-kook was messing around with V's hair went viral at the time among ARMY, especially for 'Vkook' shippers.
The moment when V called Jungkook in the middle of the night just to make sure that Jung-kook got home safely.
this video shows how strong Jung-kook is, because V was annoying him continuously, Jung-kook had to lift V to move him.
Vkook's List of Fans
So many ARMY really love them and became 'Vkook' shippers. They even made fansites about Vkook.
There so many 'Vkook' shipper fansites on Twitter, and those are some of them.
Not only on Twitter, but there is also a fansite in Amino.
Also in Tumblr.
There are also fansites in Wattpad, too. 'Vkook' is really famous.
VKook: The Popular Ship in BTS, Fans Thought They're Secretly Dating
Because they are really close, some people have speculated that they have a relationship that's more than just friends, that they're dating. These theories have gotten various reactions from netizens, some of them agree and accepted if they were really dating, but some of them say that every member is close to one another, it doesn't mean that they are dating.
According to 'Vkook' shippers, each of them has their own reason why they ship Vkook, but overall, it's because they look really cute when together, plus these two are the youngest in the group! They really treat each other like brothers and they also often get jealous of another.
Jungkook and V are really close because they are the youngest members, despite V being older than Jungkook by almost two years. They are very close and have their really cute moments. Besides that, in Korea, if they were dating, they wouldn't show the relationship directly, and would be more cautious about how they interact with each other.
Whatever their relationship is, let's continue to support and look forward to hearing from both of them and BTS!