Kim Heechul's Dating History
There have been many female celebrities from idol girl groups, or who are actresses, singers, or models that have been close to Kim Heechul. While many of them appeared to be dating Kim Heechul, none of them were. Until now, Kim Heechul hasn't confirmed that any of the female celebrities who hang out with him have been his girlfriend. Kim Heechul has starred in many variety shows, and his career surrounds him with girls, which is why he is known to have a bit of a playboy character. In real life, he's a very nice person, and females are just comfortable being around him. The female celebrities who are known for being close friends and colleagues with Kim Heechul can be seen below.
Kim Heechul With AOA's Seolhyun
Kim Seol-hyun, better known by the mononym Seolhyun, is a South Korean singer and actress. She is a member of the South Korean girl group AOA and has starred in the television dramas Ugly Alert and My Country: The New Age and movie Memoir of a Murderer. Seolhyun and Hee-chul are very close. It was revealed that they often make video calls even when she's not wearing make-up. It is rare for a member of a girl group to reveal her bare face to a man.
Kim Heechul With

Actress Lee Da Hae
Lee Da-hae, also called Lee Da-hey, is a Korean Australian actress. She is best known for her roles in Korean dramas such as My Girl, Green Rose, The Slave Hunters, Miss Ripley, and Hotel King as well as the Chinese dramas Love Actually and Best Couple. Actress Lee Da-hae is one of the female celebrities who call Hee-chul "unnie." Da-hae has known Heechul for a decade since they met at FT Island's Hongki's birthday party.
Kim Heechul With

EXID's Hani
The pair was awkward at first on A Style for You but soon became close and even hosted Weekly Idol together at one point. Heechul once dubbed them the "Hee Brothers," because Hani's real name is Hee Yeon. On the show My Brain, a fortune-teller predicted Heechul will marry Hani. Hearing the prediction, Heechul showed a surprised reaction and immediately replied, "We are so close that we never thought about it." Then, Heechul decided to call Hani and tell her, "The fortune teller said that we will marry each other." Without thinking, Hani replied quickly and amusingly, "I won't get married then."
Kim Heechul With

Red Velvet's Yeri
Yeri is known as a social butterfly in the K-pop world. Yeri never hesitates to start conversations with other people. She is also able to break the ice so that the conversation flows. This makes her much more approachable especially for those who are shy. It is known that Yeri of Red Velvet is close to Heechul, but they have a very cute sibling relationship.
Kim Heechul With

Actress Song Ji Hyo
The Running Man star hosted a music show with Hee-chul when he first debuted, and since then, the two have even gotten closer. In Knowing Brothers, it was revealed that Heechul and Song Ji Hyo are close with each other. They often exchange messages to offer congratulations for their different accomplishments. Kim Heechul stated, "We worry about and take care of each other so we always exchange messages when happy or sad things are happening in our lives."
Kim Heechul With

Actress Im Soo Hyang
Heechul made the cast of Knowing Brothers suspect him when he revealed that he hangs out with actress Im Soo Hyang often. They have been friends for more than 8 years and still counting, and they even went on vacation together in the past with other friends. On an episode of Life Bar, Heechul said that he, Lim Soo Hyang, Lee Yu Bi, and Kang Min Kyung have all met for a night of drinking before. He continued to state that they were all close friends.
Kim Heechul With

BoA
BoA once said Hee-chul was her best friend and like a brother to her. They are often seen together when they have company events such as SMTOWN. Since the age gap is not that far, they naturally became close friends. Heechul is known for making every girl comfortable with him since he does not treat them as a girl but as a friend. 
Kim Heechul With

Son Dam Bi
Kim Heechul and Son Dam Bi are friends of the same age and are known to have a close relationship, especially while they were both actively promoting as singers. However, Heechul denied the possibility of them dating and insisted they are just good friends. They once appeared on a variety show and Dam Bi claimed Heechul is known as an idol condom, which means that when female celebrities hang out with him, they are not got worried about any dating rumors and they feel very safe. 
Kim Heechul With

Actress Shim Eun-kyung
Shim Eun-kyung (born May 31, 1994) is a South Korean actress. She has starred in box office hits Sunny (2011), Miss Granny (2014), and Fabricated City (2017), as well as television series Naeil's Cantabile (2014). Although it is not clear when they became friends, the two were said to be each other's respective doppelganger when she appeared on her radio show many years ago.
Kim Heechul With

Former Member of F(x) Sulli
Choi Jin-ri, better known by her stage name Sulli, was a South Korean actress, singer, and model. Sulli made her debut as a child actress, appearing as a supporting cast member on the SBS historical drama Ballad of Seodong. Later, she became a member of SM Entertainment's girl group, F(x). Even though they were 10 years apart, Kim Heechul and Sulli were known to be very close and share a similar relationship to real siblings. In one of his live streams on YouTube, Kim Heechul told his fans that when Sulli passed away, he took over caring for her cat and brought it to his house.
Kim Heechul With Apink's Hayoung
Heechul and Hayoung's friendship developed from him sending her a video message on Weekly Idol to her calling him on her YouTube channel. On Knowing Brother when Apink was the guest, Hayoung looked at Heechul with a weird look every time Heechul did something funny, so the other cast of Knowing Brother became suspicious of their past relationship. On Knowing Brothers, he was super into Hayoung of Apink and wanted to meet and possibly date her, but after they became close, Heechul called Hayoung his sister.
Kim Heechul With Lee Ji Ah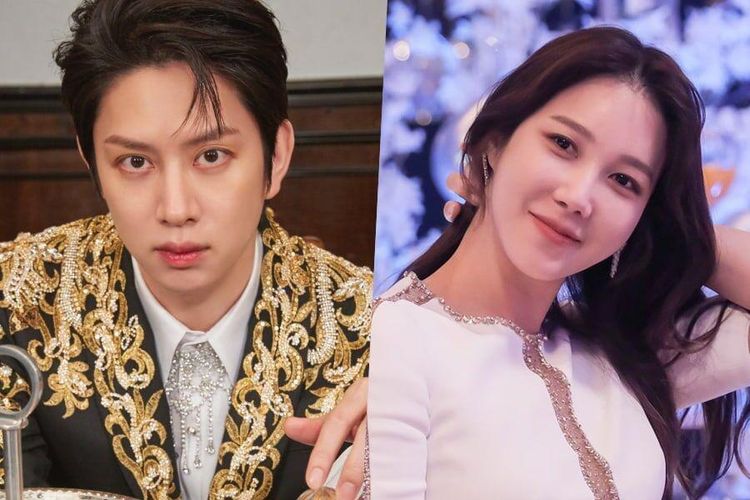 Super Junior's Kim Heechul went viral when he made a post about his conversation with actress Lee Ji Ah regarding spoilers of a scene in the Korean drama The Penthouse. It turns out that Kim Heechul and Lee Ji Ah are friends as he was casually texting her to ask about the drama's spoiler even though he was mad when she told him what it was.
Kim Heechul With TWICE's Momo
Heechul and Twice's Momo's relationship became known when he revealed on Knowing Brothers that he is Momo's superfan. They had an iconic moment together on Knowing Brothers, and everybody loved Heechul's fanboy side. Momo even starred in his music video with Kyung Hoon, and it became a hit song. Turns out, in 2020 it was revealed that Heechul and Momo were having a romantic relationship. Usually, when an idol's love life is exposed, they gain negative feedback from the public. But, in this case, Momo and Heechul seem to have a lovely and funny reaction from the public.
Kim Heechul With April's Naeun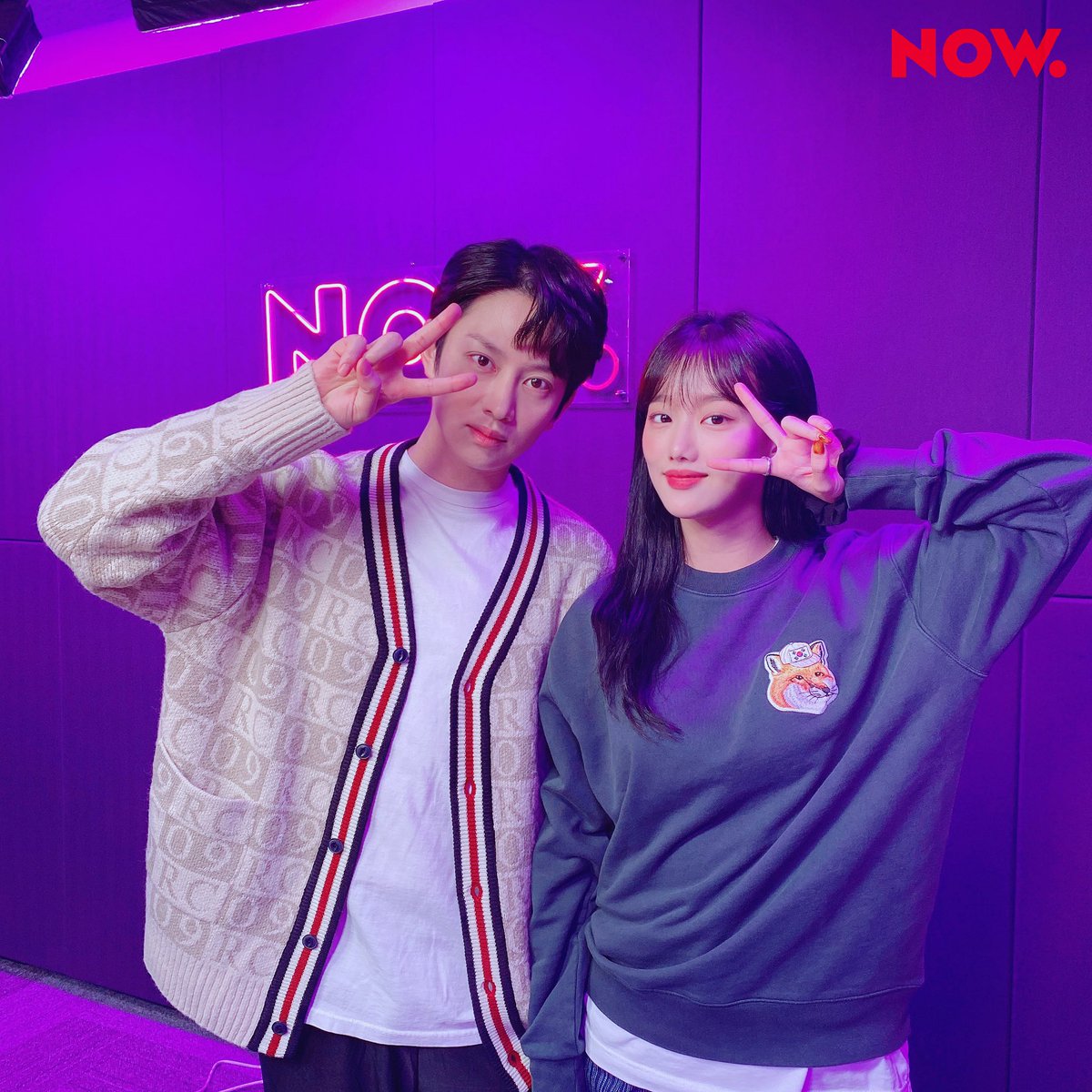 Naeun and Heechul were on the same Variety Show called Delicious Rendezvous. Because of that variety show, they became close. Naeun feels comfortable around Heechul as he always took care of her on the show. Naeun said that he is a universally big star. She also stated that Heechul has sculpture-like beauty, is very thoughtful, and often takes care of her. Heechul is like a brother to her. Not only does Naeun like Heechul as a brother, but her family likes him, too. She said that her parents really like Heechul.
Is Kim Heechul Already Married? Who Is His Wife?
As of now, Kim Heechul is still dating TWICE's Momo, and they have not announced any plans of becoming married. So, Heechul is not married. On one of the variety shows he was in, he revealed that he doesn't want to get married yet.
On the TV program Where Are You Going, Heechul opened up about his romantic relationship and marriage. "You see, I'm 36 years old. I want to date openly often, and I dream about getting married and settling down," said Heechul.
But, he explained he can't marry right now because of his most valued asset, his fans. He has to be as careful as possible about them. He has fans who, despite his idol years, have stayed by his side since he debuted. He doesn't want them to be hurt. That is the reason why he can't get married soon.
Does Kim Heechul Ever Give Any Hints About an Ex-Girlfriend?
In January 2017, Kim Heechul appeared on Channel A's Singderella, and he was given a question about his attitude towards love. He revealed that he used to appear on a broadcast with his ex-girlfriend.
When the MC was talking about the topic of breakups in a relationship and knowing that Kim Heechul was experienced with relationships, Kim Heechul had to be the first to answer about breaking up with a girlfriend.
"I'm not the type to hold back a relationship when the girl initiates a breakup. If she wants to breakup, I will just follow her decision since there's nothing that can be done about it. Bye."
The K-pop idol, who is known to have a bit of a bad-boy personality himself, shared that he ended up being dumped, but he enjoyed the feelings because they represented a new beginning for him.
Kim Heechul added, "It will be tiring if we hold up the relationship and are dramatic during the whole process to keep up with a person."
The other guest and MC weren't surprised by Kim Heechul's explanation. Later on, Kim Heechul continued talking about dealing with a breakup by saying that when his girlfriend asked him to breakup and if he had ever loved her, he answered that he liked her, but he wasn't sure that he loved her, and that was officially the end of the relationship. "They would always contact me again and say that it would be good to have a date with me," Kim Heechul said savagely. Many of the viewers weren't surprised by his statement.
Kim Heechul barely knew why he and his girlfriend broke up because he couldn't keep in good contact with her during his busy schedule, and he knew he got dumped because he couldn't make time for her. Kim Heechul created the rule for himself that he won't be interested in any other girl when he is dating someone. That's why he ended his relationship on good terms even though his savage personality can't be hidden. But, he explained that he still can work with his ex-girlfriend on good terms whenever they meet at broadcasting stations.