Who is Sung Dong-il?
Sung Dong-il (born April 27, 1967) is a South Korean actor. Sung made his acting debut in theater in 1987, then was recruited in 1991 when SBS opened a talent audition. He became famous for the Jeolla "Red Socks" character in the television drama Eun-shil, although he later tried to fight typecasting by playing the son of a chaebol tycoon in Love In 3 Colors and a university professor in March. After years of supporting roles on TV, Sung's film career began to gain traction when he played in the romantic comedy hit 200 Pounds Beauty in 2006.
Furthermore, he became one of the most influential supporting actors in Korean cinema, displaying his comic skills and easy charm in films like Take Off, Foxy Festival, Children …, The Suicide Forecast, and The Client. He also had major roles in The Suck Up Project: Mr. XXX-Kisser, the 3D blockbuster Mr. Go, and the mystery comedy The Accidental Detective. On the small screen, Sung won praise as a villain in The Slave Hunters, and as a strict, but caring father on Reply 1997 and its spinoffs: Answering 1994 and Answering 1988.  Sung received a new surge in popularity in 2013, when he and his son Joon starred in Dad! Where Are We Going?, A reality show featuring five male celebrities and their children on a camping mission; his daughter Bin also joined him for the second season of the event.
Sung Dong-il's Profile
Name: Sung Dong-il
Hangul: 성동일
Birthdate: April 27,1967
Birthplace: Incheon, South Korea
Height: 177cm
Sung Dong-il's Filmography
Movies
The Great Battle | Ansisung (2018) – Woo-Dae
Along With the Gods: The Last 49 Days | Singwa Hamgge: Ingwa Yeon (2018) – community service center employee / King of Goryeo
Love+Sling | Reseulreo (2018) – Sung-Soo
The Accidental Detective 2: In Action | Tamjung: Riteonzeu (2018) – No Tae-Soo
The Chase | Bandeusi Jabneunda (2017) – Park Pyung-Dal
Midnight Runners | Chungnyeongyungchal (2017) – Professor Yang
Real (2017) – Jo Won-Geun
RV: Resurrected Victims | Heesaengboohwalja (2017) – Son Young-Tae
The King (2017) – Park Tae-Soo's homeroom teacher
Because I Love You | Saranghagi Ttaemoone (2017) – Detective Park
Proof of Innocence | Teukbyeolsusa: Sahyoungsuui Pyeonji (2016) – Kim Pan-Soo
Circle of Atonement | Bimil (2015) – Detective Lee Sang-Won
The Accidental Detective | Tamjung: Deo Bigining (2015) – Detective No
Chronicle of a Blood Merchant | Heosamgwan (2015) – Mr. Bang
Thread of Lies | Wooahan Geojitmal (2014) – Kwak Man-Ho
Miss Granny | Soosanghan Geunyeo (2014) – Hyun-Chul (Mal-Soon's son)
Mr. Go (2013) – Sung Choong-Soo
Return of the Mafia | Gamunui Youngkwang 5 – Gamunui Gwihan (2012) – Jang Seok-Tae
The Grand Heist | Baramgwa Hamjje Sarajida (2012) – Jang Soo-Gyun
Mr. XXX-Kisser | Ahbuwei Wang (2012) – Heo Go-Soo
Miss Conspirator | Miseugo Peurojaekteu (2012) – Detective Squad Chief Sung
SIU | Teuksoobon (2011) – Det. Park In-Moo
The Client | Uiroein (2011) – Broker Jang Ho-Won
The Suicide Forecast | Soosanghan Gogaekdeul (2011) – Manager Park
Children… | Ahyideul… (2011)
Foxy Festival | Peseutibal (2010) – Ki-Bong (owner of hardware store)
Hearty Paws 2 | Maeumee 2 (2010)
The Righteous Thief | Hongkildongui Huye (2009) – Song Jae-Pil
Take Off | Gukgadaepyo (2009) – Coach Bong
Myodoyahwa (2008)
Once Upon A Time (2008) – Bar Owner
200 Pounds Beauty | Minyeoneun Goerowo (2006) – Record Company Exec
Running 7 Dogs | Chilinui saebyeok (2001)
Drama Series
Trap (OCN / 2019) – Ko Dong-Kook
Your Honor | Chinaehaneun Pansanimgge (SBS / 2018) – Sa Ma-Ryong
Ms. Hammurabi (JTBC / 2018) – Han Se-Sang
Live (tvN / 2018) – Ki Han-Sol
Prison Playbook | Seulgirowoon Gambbangsaenghwal (tvN / 2017-2018) – Prison Officer Jo
The Package (JTBC / 2017) – So-So's boss (cameo)
Hwarang (KBS2 / 2016-2017) – Wi Hwa Kong / Wi Hwa Rang
The Legend of the Blue Sea | Pooreun Badaui Junsul (SBS / 2016-2017) – Ma Dae-Young / Mr. Yang
The K2 (tvN / 2016) – detective (ep.3)
Moon Lovers: Scarlet Heart Ryeo | Dalui Yeonin – Bobogyungsim Ryeo (SBS / 2016) – Park Soo-Kyung
Dear My Friends (tvN / 2016) – Professor Park
Pied Piper | Piribooneun Sanai (tvN / 2016) – Oh Jung-Hak
Reply 1988 | Eungdabhara 1988 (tvN / 2015-2016) – Sung Dong-Il
It's Ok, This is Love | Gwaenchana, Sarangiya (SBS / 2014) – Jo Dong-Min
Gabdong, the Memories of Murder | Gapdongi (tvN / 2014) – Chief Detective Yang Chul-Gon
Reply 1994 | Eungdabhara 1994 (tvN / 2013) – Sung Dong-Il
Jang Ok Jung, Living by Love | Jang Ok-Jung, Sarange Salda (SBS / 2013) – Jang Hyun
IRIS 2 | Airiseu 2 (KBS2 / 2013) – Park Joon-Han
Jeon Woo-Chi | Jeonwoochi (KBS2 / 2012-2013) – Bong-Goo
Reply 1997 | Eungdabhara 1997 (tvN / 2012) – Sung Dong-Il (Shi-Won's father)
Color of Women | Kulreo Obeu Woomun (Channel A / 2011-2012) – Park Chan-Ho
Can't Live With Losing | Jikoneun Motsalah (MBC / 2011) – Jo Jung-Koo
The Fugitive: Plan B | Domangja (KBS2 / 2010) – Nakamura Hwang
My Girlfriend is a Nine-Tailed Fox | Nae Yeochineun Gumiho (SBS / 2010)
The Slave Hunters | Chuno (KBS2 / 2010)
Green Carriage | Noksaek Macha (SBS / 2009) – Yoon Chun-Keun
Love and Law | Daehanminguk Byeonhosa (MBC / 2008) – Oh Ryoo-Dong
Don't Go Away | Heundeulrijima (MBC / 2008)
New Heart (MBC / 2007-2008) -Lee Soong-Jae
Blue Fish | 8 wolye Naerineun Nun (SBS / 2007)
Get Karl! Oh Soo Jung | Kaljapyi Osujeong (SBS / 2007) – Seung-Gyoo
Witch Ma | Manyeo Yu-hee (SBS / 2007)
Come Back Soon-ae! | Dolahhwayo Sunaesshi (SBS / 2006) – passenger on airplane
Green Rose | Geurin Rojeu (SBS / 2005) – driver Jung
Lovers in Paris | Pariui Yeonin (SBS / 2004) – Moon Ui-Won (Yun-A's father)
South Of the Sun | Taeyangui Namjjok (SBS / 2003)
Awards
Special Actor (fantasy) ("The Legend of the Blue Sea") – 2016 SBS Drama Awards – December 31, 2016
Special Acting Award – tvN10 Awards – October 9, 2016
Excellent Actor (mini series) ("It's Ok, This is Love") – 2014 SBS Drama Awards – December 31, 2014
Excellent Actor (Jang Ok-Jung) – 2013 SBS Drama Awards – December 31, 2013
Sung Dong-il's Early Life
Sung Dong-il was born in Incheon, South Korea on April 27, 1967. According to his own description, he was born into a strict household that had many rules and restrictions. Sung's parents are very orthodox in their beliefs, but couldn't stop their son from dreaming big. Sung always had a great sense of humor, which he displayed among his school friends and family members, but he never thought he could make a career out of it.
He was good at academics, and was planning on a career in engineering. He went into acting when he was in high school, however, he considered it more as a hobby than a passion. After he completed his schooling, he struggled to get acceptance to technical colleges and was finally enrolled in the Yuhan University Mechanical Design program. But he never gave up acting, and continued to participate in local theater. He considered this a recreational activity and his routine continued until 1987, when he entered a professional theater. His reputation was growing, and when he was given a shot at SBS's Open Talent auditions in 1991, he was one of the few who succeeded. His acting career had begun.
Sung Dong-il's Career
The talent hunting conducted by SBS cast Sung in a role in the network comedy series 'Gwanchon Essay'. After he finished with the series, everything went back to normal for him. After the usual start, he began to get more roles, if usually minor ones. He was earning enough money to survive in a big city like Seoul, so life was pretty good, as far as Sung was concerned.
He accepted every offer that came to him and continued to make people laugh, thanks to his comic timing. In the late '90s, he appeared in series such as the Korean Gate, Woman Cyclist, and Snail. In 1999, Sung was awarded his first relatively significant role in Love In 3 Colors. This drama series was low in comedy, but very romantic, and it helped Sung explore various genres. In time, he gained the necessary experience that would be useful when he first appeared in the film, which he had signed.
In 2001, he made his film debut with Running 7 Dogs. Although the film wasn't too popular, it paved the way for Sung to have opportunities for more meaty roles. Sung continued to appear on TV with series like Rustic Period and South of the Sun. His role as a manager in the Drama City was admired by a wider audience.
Sung's constant search for a starring role finally ended with the 2006 film 200 Pounds Beauty. The film was a romantic comedy that revolves around the lives of struggling musicians, and Sung plays a record company executive. That is the main role, and still in his comfort zone because it involves funny elements. Sung made audiences laugh, and his performance was then touted as one of the main reasons for the film's success.
Now established as a leading actor, his next starring role was in the period robbery movie, Once Upon a Time, which was set during the Second World War. Sung played a very interesting role in this film as a nightclub owner. The film turned out to be a success, resulting in more roles for Sung. During this phase of his career, Sung was hailed as one of the most bankable supporting actors, both in films and TV series. When he was part of a successful TV series such as My Girlfriend is a Nine-Tailed Fox and A New Heart, he focused on landing a decent film role. He also appeared on various shows such as Delicious Asia and Dream of Goose, among various other successful events at that time.
With the 2010 series The Slave Hunters, he experienced a major change in image when he tried to play a negative role for the first time in his career. The successful historical drama earned him praise, and he proved to the world that he could enter into any role. He also received the Best Supporting Actor Award at the KBS Drama Awards that year.
For his 2009 film Take Off, an award-winning sports drama, Sung finally won the Best Supporting Actor Award at the Blue Dragon Film Awards, the Max Movie Awards, and the Chunsa Film Art Awards. Sung once again presented an award-winning performance when he played Jang Hyun in a periodic drama series called Jang Ok-jung, Living by Love, where he was awarded the 'Excellence Award' at the 2013 SBS Drama Awards. He received the same award, again, in 2014 for the series It's Okay, That's Love.
Regardless of his status as an actor, which has been revered by the country, he has also been in the reality program Father! Where Are We Going?. He participated in the show with his biological son. The event featured five celebrity fathers and their children on a camping trip. The relationship that Sung shared with his son became one of the points of conversation for the whole show.
2015 turned out to be a busy year for Sung, when he appeared in six back-to-back films such as the Chronicle of a Blood Merchant and Accidental Detective, and he played his roles with panache. He continued his success on television as well, appearing in various fiction and variety show series. In 2016, he appeared in series such as Dear My Friends and The Legend of the Blue Sea. He is currently looking forward to the release of the series Wise Prison Life and is filming for the big-budget film Accidental Detective 2.
Sung Dong-il's Personal Life
Sung Dong-il dated Park Kyung-hye for several years before they married in 2003, and the couple now has three children, born in 2006, 2008 and 2011.
Sung is very close to his son, Joon, and said that when he got an offer to appear on the show Dad, Where Are We Going with his son, he was initially confused. But then he was happy to say yes, because he believed that the show made him more aware as a parent. He also said that it introduced him to some of his own weaknesses as a person.
Sung Dong-il on Running Man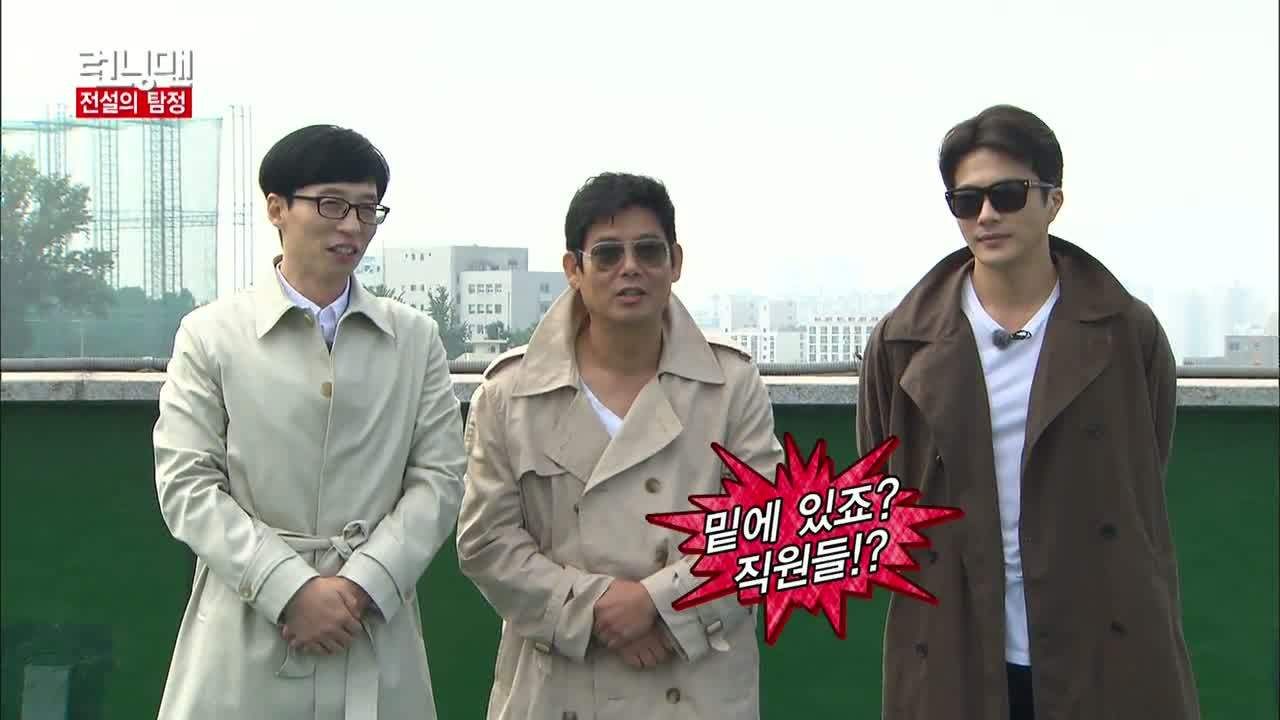 This episode tells about 3 detective teams who gather clues to solve in the final mission. The detective theme was deliberately used, to promote the latest film from the guests, namely Kwon Sang Woo and Sung Dong-il, The Accidental Detective. When the episode began, only Jae Suk was seen with the guests. The three men turned out to be the team leaders of the three teams that would be formed. They, themselves, will look for team members by eliminating name tags.
The team leaders immediately headed to the location where their team members were, to start hunting for their team members. The members of Running Man split and hid. Jae Suk found the first two Running Man members, Kwang Soo, and Jong Kook, hiding in the elevator. Jae Suk immediately eliminated Kwang Soo. Whereas Jong Kook burns eliminating, Jae Suk is humiliated by Jong Kook who continued to push him away. Jae Suk, feeling his pride has been trampled, continued to entertain himself by saying that Jong Kook is getting weaker day by day.
On the other hand, Sang Woo enthusiastically looked for prey, even though his leg was injured. Suk Jin was the first one he found. Sang Woo pursued him mercilessly, and Suk Jin became Sang Woo's first subordinate. Suk Jin seemed very grateful and didn't miss the opportunity to take pictures with the top celebrity. Soon Woo also managed to hook Gary as his subordinate, thanks to help from Suk Jin. Dong-il found Jong Kook, making him his subordinate. The only two members who remained undiscovered were Haha and Ji Hyo. Jae Suk's team finally managed to find Haha, who hid himself by sitting among the people who were watching. Meanwhile Ji Hyo was captured by Sang Woo's team, and joined his side.
The first game they played was blowing on a bowling pin to make it fall, using a nose hole. The players had to wear masks to prevent air spraying in unwanted directions. The first team to compete was Jae Suk's team. Jae Suk managed to knock down three, Kwang Soo knocked down one, and Haha didn't succeed. Sang Woo's team had the poorest performance. They didn't manage to knock down even one of the bowling pins. Dong-il's team was the eventual winner, managing to drop a total of eight bowling pins.
The teams split up, then, looking for clues in 5 different locations. Dong-il and Jae Suk's team headed to the expo park, while team Sang Woo went to a dumpling restaurant. Arriving at the expo park, Jae Suk and Dong's team looked for the mission they had to do there. When they heard gymnastics music that was familiar to them from their school days, they decided to do gymnastics. Sure enough, after successfully completing the gymnastics correctly, the Dong-il team managed to get instructions and immediately left the location. Jae Suk's team continued to do their gymnastics with the movements as they are.
In the dumpling restaurant, Sang Woo's team looked confused and continued to try to guess what mission actually awaited them there. Not long after, they found something strange on the paper menu list displayed there. A lot of items on the menu were written incorrectly, and showed a food that they needed to order there. They managed to pass the mission in the dumpling restaurant and get directions for the next challenge.
Sang Woo's team immediately headed to their next location, the terminal. When they arrived, they again had to guess what their mission was supposed to be. Gary, who was standing by the payphone, was surprised when the phone next to him started ringing. He immediately picked up and heard a voice asking for warm PD shoes. Sang Woo's team picked up the phone twice, but they still couldn't answer it. Luckily, one of Gary's stylists remembered the color of PD shoes and they also managed to finish.
Returning to Jae Suk's team, they successfully completed their mission at the expo park. Haha and the starving Kwang Soo asked Jae Suk to stop by dumpling and bakery restaurants. When they arrived at the location, Kwang Soo looked stale because he saw photos of food on the website for the restaurant they would be visiting. Unfortunately, it was unpredictable, but Jae Suk deceived his two innocent men. Haha and Kwang Soo, who are upset, were forced to follow Jae Suk's will and start looking for the mission there.
After they spent a long time looking at the pictures on the walls along the way, they found a picture of a butterfly that was made of baps to be used as a photo object. Haha and Jae Suk took turns taking pictures. When it was Kwang Soo's turn, they immediately dispersed. They were noisy and not focused on the mission, but suddenly Haha found something strange and a photo of the butterfly. After they looked at it more closely, it turned out that there was an 'R' sticker attached to it. Haha was arrogant and started bullying Jae Suk, who was considered incompetent to be the team leader.
They took pictures together in front of the butterfly image, but the mission didn't end there. They had to look for two more images according to the number of cameras they held. Haha was his team's hero again when he found another picture with the 'R' sticker on it. Haha mocked their team leader, Jae Suk, saying he couldn't do anything. Their team also managed to complete the mission, and received black hat instructions that hadn't been obtained by other groups.
Elsewhere, the Dong-il team was seen at the location of Sang Woo's shop. The team looked for clues based on the writings on the shop wall. Team Sang Woo finally succeeded in solving the instructions that told them to look for skewed citizens and share with them. The team immediately followed the directions, completing of the mission.
Talc feels the search time is over. Sang Woo's team and Jae Suk's team managed to get four clues, and Dong-il's team managed to find three clues. All the teams gathered at the final location.
There, they were told to find someone with the instructions they have got. Only one of the teams came out to search, while others helped monitor CCTV cameras installed at various locations in the search location. At the location, there were a lot of people wearing masks and striped clothes to confuse the team members. Only people who found the five correct instructions succeeded in winning the mission. Ace Ji Hyo went into action. She caught a woman who had the four clues their group got. The woman was wearing sunglasses, striped clothes, jeans, and a backpack.
However, the effects that met from CCTV cameras didn't agree with Ji Hyo's choice, since the woman was also wearing a black hat, and Ji Hyo's team didn't have the black hat instructions. Ji Hyo got distracted by someone who ran, and let go of the woman she caught. So Soo, who was watching behind Ji Hyo, didn't let the golden opportunity pass, and immediately caught the woman Ji Hyo let go. Kwang Soo brought the woman into the box to check whether she was the right person or not.
Then gas sprays came out, showing the woman was the right person, and Jae Suk's team won! The teams gathered again after the mission winner was been found. Sang Woo was given the opportunity to open the woman's mask that the dart was looking for. Sang Woo was surprised when he opened the mask, because the woman who was wearing it was his wife, Son Tae Young. The winning team also received magnifying glasses with a golden circle in the center as their prize.