The Cutest of NU'EST, Hwang Min-hyun
Hwang Min-hyun, member of NU'EST from Pledis Entertainment, is a singer-songwriter and actor. He joined Pledis at the age of fifteen and, after two years of training, Hwang debuted as a member of boy-group NU'EST in 2012. In 2017, he represented Pledis Entertainment in the survival series Produce 101 Season 2, along with three other members of NU'EST, finishing in ninth place and becoming a member of Wanna One. Since his debut with Wanna One, his name has become more popular, especially after the incident of revealing his awesome abs during a concert.
Do you want to see the mix of his cute, sweet face with his nice abs? Check this out!
Hwang Min-hyun Accidently Shows his Abs in  Concert
It was truly an accident. It happened unexpectedly, because of his 'holy shirt' (that's what the fans called it). The reveal occurred when Wanna One was part of the Lineup at the Seowon Valley Green Concert on May 26, 2018. They performed songs such as 'Energetic', 'BOOMERANG', 'Beautiful', etc.
While they doing an energetic dance, MinHyun's shirt went up accidentally and revealed his abs!
All the fans were thrilled, because they got a look at the gem hidden behind Min-hyun's cute look. It was definitely a stunning surprise!
Minhyun had clearly been working out religiously, as his abs looked toned, slim, and goal-worthy! The idol already has so many assets such as his height and broad shoulders, and now we can add his abs to the list.
It appears Hwang Minhyun wasn't planning on revealing them. He continued to tuck his shirt back in at the start of every performance and was trying hard to keep it from flying up again.
Thanks to a shirt gone rogue, fans were able to get a view of his dangerously sexy abs!
Fans couldn't stop talking about the event, and it became a hot topic online.
"I heard Minhyun started working out but… wow"
"He's so sexy he's all that I see"
"Omg I like this so much my minhyun is so damn hot"
"thank you holy shirt"
"Really hope he will wear this holy shirt on world tour concert.."
"OMG Minhyunaa.. how many fans did you kill tonight? I caaan't with you being like this… My noona heart can't take this, you were being super manly, mature, and different than usual! Ughhh what did you do, what should I dooo ughh"
What do you think of his abs?
Hwang Min-hyun's Explanation Regarding the Abs 'Incident'
On October 11, 2018, the first episode of the new season of "Happy Together" aired, and Hwang Min Hyun appeared as a special MC for the show's season premiere. The hosts brought up Wanna One's world tour, and told him he's a true world star.
Yoo Jae Suk also mentioned that Hwang Min Hyun became a big topic of conversation after the group's concert in Seoul in June, when he showed his abs. However, fans had already gotten a sneak peek at his abs when the group performed at the Green Concert in May.
"I had been intending on revealing them for the first time at our concert, and I was always hiding them," Hwang Min Hyun explained. "Whenever we'd do a performance, I kept my clothes fixed with clothespins. But that day I forgot."
He laughed as he said, "I was really heartbroken. I wanted to reveal it for the first time at the concert, but I ended up showing them in advance."
When asked if he's still maintaining his abs, Hwang Min-hyun laughed again and said he's not. "There are so many delicious things to eat when we're doing a world tour!" he explained, "But lately I've been exercising again."
Hwang Min-hyun's Shows his Abs in a Concert Performance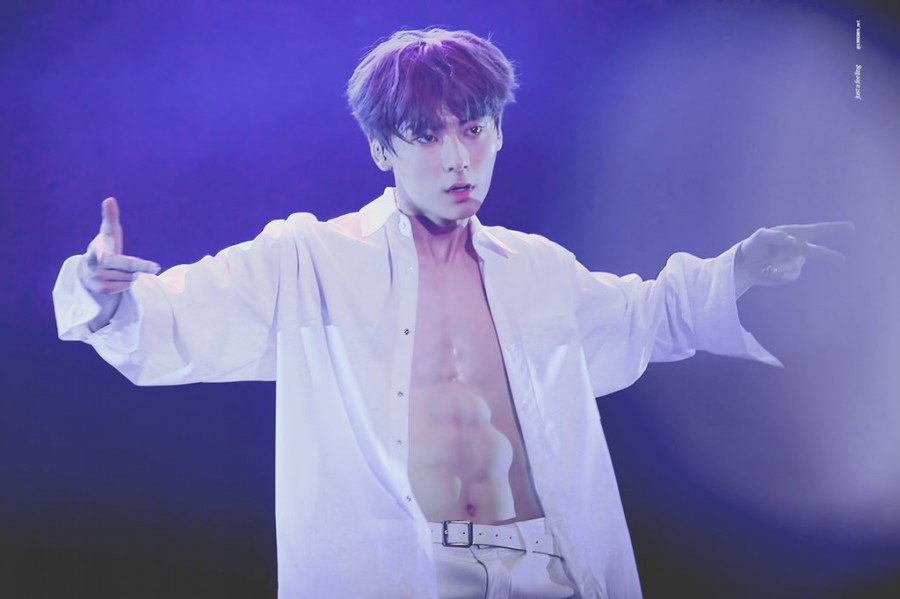 June 1-3, 2018, Wanna One started their first world tour, called One: The World,  with those first three dates being in Seoul.
On the second day, Hwang Min-hyun caught Wannable's eyes with his nice abs. During his solo performance, he showed the fans his sexy abs while doing a hot, sexy dance. It was exciting to fans, because it was unexpected. They were in awe of his abs, because he's always seemed so cute and soft. He told the fans that he wanted to do something different, and show the side of himself that never gets known. He said that he'd worked out before the tour in order to have those nice abs.
Check out his video performance!
Check Out Fans' Reactions!
Fans were surprised, but were very excited when Min-hyun revealed his abs during his solo performance on Wanna One's world tour. Little did he know that his abs became a new favorite item in his fans' eyes.
In a cute moment while Min-hyun was walking with the other members and greeting and waving to fans, he saw one of the ans holding a poster of himself.
At first he was happily waving and giving the fans warm smiles, then he sees that a certain fan has his name on their poster! Hooray!
When the fan flipped the poster over, though, it displayed a picture of his abs!
Min-hyun got all shy and embarrassed.
Look how cute he is when he gets shy and blushes! Maybe not what you'd expect from someone with abs like that!
What do you think about this cute, yet sexy Hwan Min-hyun? Share your thoughts!