Looking Handsome with Denim Outer
Nowadays teenagers like to wear denim. This is the best denim outfit from Nam Joo Hyuk. You can see how he matches the denim jacket with a yellow, plain shirt and striped pants.
Hoodie with Jacket, Not Weird!
People have often said it's weird to wear a hoodie with a jacket, because it look so bulky, but say no now! Our Nam Joo-hyuk is crossing that line with his cool outfit. He's wearing a graphic jacket that's designed look like a newspaper, paired with a plain, dark blue hoodie as an inside layer, making it perfect with the ripped jeans, so fashionable!
Black and White Outfit
We've seen him wearing all black, what about seeing him in this black and white outfit? This is literally still the best of Nam Joo-hyuk's outfits! He's sporting a bomber jacket with a black stripe on across his arm, and a white t-shirt with a square graphic on the right chest and wearing black pants to make it fit to his upper fashion.
Long Coat for Airport Fashion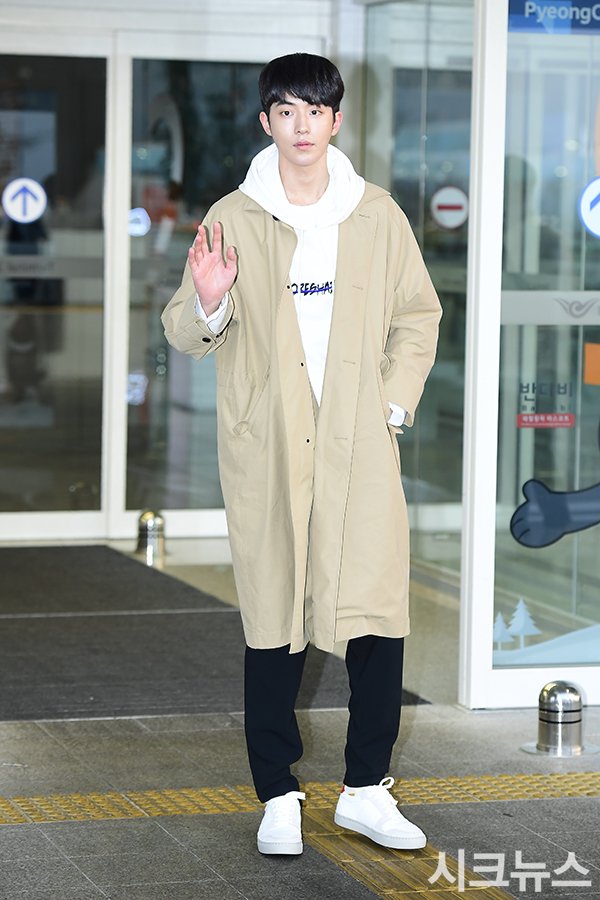 Do you have a long coat like this, but didn't know how to fit in with the style? Look at Nam Joo Hyuk's best outfit. The cream, three-quarter length overcoat emphasized Nam Joo-hyuk's slender figure with a white hoodie underneath, and long black pants with white shoes. This is a really perfect airport fashion, especially if you are going to travel to a country that has a winter season. You'll surely want to brave the cold just to meet this flower boy.
Red Suit, Looks Hot!
We've seen that in many of his outfits, he often wears hoodies, coats or plain shirts. What if he wears a formal outfit, such as suit? This man, who won as a best new actor at the 36th MBC Drama Awards in 2016, can do it even better with this red suit. His outfit when he acted in 'Bride of The Water God' looking so great! TvN released a picture, and leaked the good looking Nam Joo Hyuk behind the scenes of episode 4 of this drama. He looked so handsome wearing a black shirt, paired with a hot, red suit, who wouldn't fall for him when he's wearing a perfect formal outfit like that?
Well-Fitted Active Wear
This 24-years-old man with his 188 cm height has taken over the young-looking outfit, by wearing an active outfit such as this oversized gray hoodie with a shorts, he doesn't sacrifice his good looks even when he is just out for a run or riding his bike. He looks more like an active-wear model than a college athlete. Nam Joo-hyuk really nailed the laid-back college student look who everyone wants to be dorm hall neighbors with.
That's the 10 Photos of Nam Joo-hyuk's Best Outfits!