Old Flame: Song Seung-hun and Liu Yifei's Past Romance
Korean actor Song Seung-hun has been dating Chinese actress Liu Yifei for 2 years, but recently, their break up news popped out of nowhere! Are you curious as to what happened to their relationship? Before we find out about the cause of their break up, let's see the two artists' profiles!
Song Seung-hun's Full Profile
Song Seung-hun is a Korean actor who was born on October 5, 1976. Before becoming an actor, he started his career by being a model for the jeans brand STORM. He first became known to the public because of his appearance in the sitcom Three Guys, Three Girls, which aired in 1996. The following year, he made his debut as an actor. His debut movie was Calla, where he acted alongside Kim Hee-sun.
His popularity rose rapidly in 2000 when he appeared in the widely popular TV drama Autumn in My Heart. After building the foundation of his career with this drama, he continued to actively work in the acting field by appearing in many dramas and movies such as Make It Big (2002), So Close (2002), and Summer Scent (2003). But, in late 2004, he got caught up in a scandal where he illegally avoided his compulsory military service by submitting a tainted urine sample so that it seemed like he was suffering from a certain illness. Before his scandal got bigger, he agreed to serve his two-year term in the military.
After being discharged from the military in 2006, he made his comeback in 2008 by starring MBC's drama East of Eden. Because of his acting in the drama, he received a Grand Prize at MBC Drama Awards. In the same year, he also appeared in the action movie Fate. Later in 2009, he founded his own management agency called Storm S Entertainment, which was later changed to Better ENT.
Until now, he is still active. We can see him in MBC's variety show I Live Alone. We were recently able to see him in OCN's drama The Player alongside f(x)'s Krystal. If you want to know his current activities, you can visit his Instagram account @songseungheon1005!
Liu Yifei's
Full

Profile
If you are a fan of Disney, you must have heard this actress's name because Liu Yifei received the role of the famous, brave Disney princess Mulan in the movie Mulan that will be released in 2020.
Liu Yifei was born on August 25, 1987, in China with An Feng as her birth name. Due to her parents' divorce when she was still 10 years old, she later adopted her mother's family name and changed her name to Liu Ximeizi. Simultaneously, she also started to model while training in singing, dancing, and playing the piano. At the same age, she and her mother moved to New York.
In 2002, she went back to China to pursue her acting career. She also used her stage name Liu Yifei while being active in the field. A few weeks after she returned to China, she was accepted into the Performance Institute of Beijing Film Academy at the age of 15 and later graduated in 2006.
Not long after she was accepted into Beijing Film Academy, she also received many offers to appear in television series. She made her debut by appearing in the romance drama The Story of a Noble Family, which was based on a novel with the same name. In the same year, she got to act as Wang Yuyan in another novel adaptation titled Demi-Gods and Semi-Devils. Due to her role as Wang Yuyan, she received the nickname Fairy Sister from the media and her fans for her sweet and delicate image.
After her career built up in China, she started to go international in 2014 and collaborated with actor-singer Rain in For Love or Money. The next year, she starred in another Chinese-South Korean production, The Third Way of Love, where she met Song Seung-hun. After succeeding with many works internationally, she was cast as Mulan for the live-action adaptation of the 1998 Disney animated film. The movie is set to be released in 2020, so it looks like we still have to wait a few years until we can see her performance! Are you excited?
If you are curious about her latest activity, you can visit her social media account on Instagram or Weibo!
Song Seung-hun and Liu Yifei's Break Up News
Song Seung-hun and Liu Yifei started dating in 2015. They first met when they worked together for the Chinese-South Korean production The Third Way of Love in 2013. Song Seung-hun's agency confirmed that the two were dating and said that the two actors became close to the filming set. After they became closer, they went one step further and started dating. Even a rumor said they had introduced themselves to each other's parents and had planned their wedding, but Song Seung-hun's agency denied this.
But, in January 2018, the news about their break up surfaced. Song Seung-hun's agency confirmed this and announced their break up. The agency said that they had broken up naturally due to their busy schedules. They also made sure that they broke up because of the Terminal High Altitude Area Defense (THAAD) issues between South Korea and China.
Actually, even before the official announcement came out, there were many rumors about their break up from previous years. Even though the agency denied the rumors, this time, it was true and did not surprise some netizens.
Liu Yifei's Current Boyfriend and Dating Rumor List
Like most celebrities, Liu Yifei tries to keep her personal and love life private. She rarely talks about her love life in public. Being known for her acting in Mulan, Liu Yifei wants to be known because of her work, so she works really hard at singing and keeps her real-life private. Even after years in the entertainment industry, she still active in many movies and dramas. Ahead, we take a look at Liu Yifei's current boyfriend and any dating rumor of her love life.
So, who are the men who are rumored to have dated Liu Yifei?
Liu Yifei With Boran Jing
After breaking up with Song Seung Hoon, Liu Yifei made headlines again when he was seen with Chinese singer Boran Jing. The handsome star herself is two years younger than the actress who played the film MULAN. After the rumors that Liu Yifei and Boran Jing were circulating together, it was revealed that the singer actually has a lover. Boran Jing and his partner had been dating for a while and were serious.
Liu Yifei and Boran Jing are known to be together because they are both working on a new drama. They play together in Records of The Southern Mist House. Liu Yifei's fans also defended the actress; they believed that Song Seung Hoon's relationship ended because the 30-year-old star wanted to focus more on his career. They also believe that Liu Yifei will not be dating again shortly.
Liu Yifei With Rain
Korean Hallyu star Rain (Jung Ji-hoon) revealed himself with the Chinese actress Liu Yifei. On his Instagram account, the Korean heartthrob uploaded a selfie with Liu, the Chinese film heroine "For Love or Money (Lushuihongyan)." In the photo, the two Asian stars are looking at the camera and making funny faces.
Launched in China, "For Love or Money" was directed by Chinese filmmaker Gao Xixi and stars Rain and Liu Yifei. Rain plays Xu Chengxun, an artistic painter and the only heir of a conglomerate owner in Southeast China. On one occasion, the Korean singer Rain said that Liu Yifei is the most beautiful Chinese woman he has ever seen.
Song Seung-hun's Current Girlfriend and Dating Rumor List
Song Seung-Heon is a South Korean model and actor. He has acted in various television dramas; he won hearts with his spectacular performance in the popular K-drama Autumn in My Heart (2000), East of Eden (2008), My Princess (2011), Black (2017), Player (2018), and The Great Show (2019). His latest drama is Dinner Mate (2020). Since his debut, he has been linked to many celebrities and has also confirmed dating in the past. So who are they? Let's check it out!
Song Seung-hun With Song Hye Kyo
Korean drama lovers must know about the melodrama entitled "Autumn in My Heart" or "Endless Love" in 2000. The drama, starring Song Seung Heon, Song Hye Kyo, and Won Bin, achieved the tremendous success that created the Hallyu wave or the Korean wave. When he talked about his favorite scene in "Autumn In My Heart," the actor Yoon Joon Suh mentioned the scene when Song Hye Kyo, who plays Choi Eun Suh, hugged him from behind when he met again on the beach as an adult.
Song Hye Kyo was reportedly close to Song Seung Heon, his co-star in Autumn in My Heart in 2000. Both were rumored to be involved in the love of the location after the drama ended. Although this news was quite widely heard, the two agencies never confirmed the rumors. But Seung Heon once admitted that Hye Kyo was his ideal type.
Song Seung-hun With Sung Yuri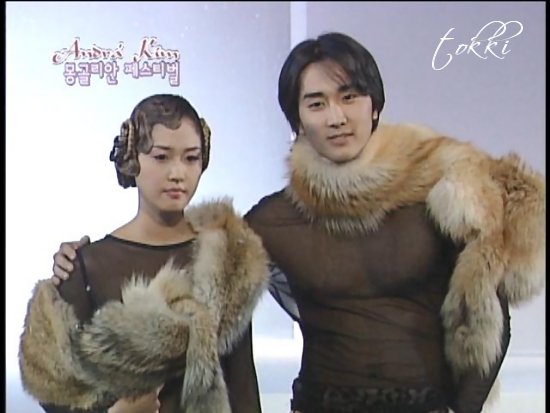 Song Seung Hun and Sung Yuri, from a former girl band 'FIN.K.L,' were reported to be in a relationship in 2002. But break up in June 2003, surprising the media and fans. Due to their busy works, they spent less time together, and finally, they agreed to break up. After the news spread out, the media and fans then know that they dated for 8 months. Song Seung Hun's manager revealed that they knew each other when they modeled Andre Kim's fashion show. During the days together, they developed chemistry. Song Seung Hun even went to buy a couple of rings to mark their dating. And Sung Yuri bought him a puppy.
During their dating period, Song Seung Hun always bought roses for Sung Yuri, and she also bought clothes for him. once they're free, they would meet at an expensive Japanese restaurant or go for an outing. When Song Seung Hun was filming 'Ice Rain' in Canada in March 2003, they chat on the phone every day and spent nearly 2 hours every night on international calls. Song Seung Hun's manager even revealed: Song Seung Hun loves to drink, but because Sung Yuri did not like him drinking, he never touched a drop for 3 months.
After reading the article about Liu Yifei and Song Seung hun, did you get all the information you wanted? Have you started getting interested in K-Drama? Don't worry! Channel Korea is here to provide all the latest articles and news related to K-POP, K-drama, and the South Korean Industry to fulfill your curiosity. Whatever you need is here. So always look forward to the latest news from Channel Korea, if you don't want to miss the latest news you are waiting for!