Who is Lee Yoo-ri?
Lee Yoo-ri is an actress and businesswomen from South Korea. Lee Yoo-ri rose to popularity with her role in Precious Family (2005). Lee Yoo-ri began her acting career in 2001 as a supporting actor with several leading roles in dramas and television series. She began to be known in the Korean film scene after starring in Twinkle Twinkle. Her popularity continued to rise in 2014 thanks to her role as Jang Bo-ri in the drama Come, Jang Bo-ri! which successfully drove her to becoming famous. In that year, Lee Yoo-ri won the Grand Prize from MBC Drama Awards and finished second in Gallup Korea's Actress of the Year. She also won many awards thanks to her brilliant acting.
Lee Yoo-ri's Profile
Name: Lee Yoo-ri
Hangul: 이유리
Birthdate: January 28, 1982
Birthplace: South Korea
Height: 162 cm
Instagram: @LEEYURI007
Lee Yoo-ri's Filmography
Movies
Friendly and Harmonious | Hwa-ki-ae-ae (2005)
Bunshinsaba: Ouija Board | Bunshinsaba (2004) – Kim In-Sook
Drama Series
Hide and Seek | Soombakkokjil (MBC / 2018) – Min Chae-Rin
My Father is Strange | Abeojiga Isanghae (KBS2 / 2017) – Byun Hye-Young
Another Miss Oh | Ddo Ohhaeyoung (tvN / 2016) – Heo Ji-Ya (young – ep.10)
The Promise | Cheonsangui Yaksok (KBS2 / 2016) – Lee Na-Yeon / Baek Do-Hee
Super Daddy Yul (tvN / 2015) – Cha Mi-Rae
Come! Jang Bo-Ri | Watta! Jangbori (MBC / 2014) – Yeon Min-Jung
Your Lady | Dangsinui Yeoja (SBS / 2013) – Oh Yoo-Jung / Lee Eun-Soo
Ice Adonis | Nolan Bogsucho (tvN / 2012) – Seol Yeon-Hwa
My Daughter the Flower | Nae Ttal Kkochnimi (SBS / 2011-2012) – (cameo)
Twinkle Twinkle | Banjjak Banjjak Bitnaneun (MBC / 2011) – Hwang Geum-Ran
Daring Women | Dangdolhan Yeoja (SBS / 2010)
I Love You, Don't Cry | Saranghae Euljima (MBC / 2008) – Jo Mi-Soo
Mom's Dead Upset | Eommaga Bbulnada (KBS2 / 2008) – Na Young-Mi
Super Rookie Ranger | Moojeokeui Nakhasan Yowon (SBS / 2006) – as character Eun-Hyuk's ex-lover
Young-Jae's Golden Days | Yeongjaeui Keonseongsidae (MBC / 2005)
Precious Family | Bumoonim Jeonsangseo (KBS2 / 2004)
Only You | Ahnae (KBS2 / 2003)
Yellow Handkerchief | Noran Sonsukeon (KBS / 2003)
Argon (MBC / 2003)
Loving You (KBS / 2002)
School 4 | Hakgyo 4 (KBS / 2001-2002) – Park Seo-Won
TV Movies
Drama Special: Pinocchio's Nose | Pinokioui Ko (KBS2 / 2016) – Yoon Da-Jung
Awards
2017
KBS Drama Awards – December 31, 2017
Best Actress ("My Father is Strange")
Best Couple Award ("My Father is Strange")
2016
KBS Drama Awards – December 31, 2016
Excellent Actress (daily drama) ("The Promise")
2014
MBC Drama Awards – December 30, 2014
Grand Prize ("Come! Jang Bo-Ri")
Best Actor or Actress Selected by Directors ("Come! Jang Bo-Ri")
2011
MBC Drama Awards – December 30, 2011
Excellent Actress (drama) ("Twinkle Twinkle")
Lee Yoo-ri's Husband
Lee Yoo-ri is currently married to a Christian missionary named Jo Kye-hyun. The two of them met while studying The Bible in 2008. After getting to know each other, they began dating in 2009. In September 2010, Lee Yoo-ri and Jo Kye-hyun held a private wedding at EL Tower in Seoul.
There were never any rumors of the two of them dating and she never revealed their relationship before marriage. Even though she had previously been dating, she kept it hidden from the media. Due to this, the wedding was the first time Lee Yoo-ri publicly announced her relationship to the world.
Lee Yoo-ri in Running Man
Lee Yoo-ri had appeared once in Running Man episode 213, titled "Aggressive Actress". She attended the variety show with other guests, Choi Yeo-jin, Seo-woo, Yoo In-young, and Kim Min-seo. Yoo-ri is known for her antagonist roles in various dramas. Her signature acting skills were showcased in the introduction of the show with her partner, Gary. She had even thrown a glass of water in Gary's face. When the director said "Cut!" she then introduced herself politely to Gary.
The theme of that day's race was 'Find the Chaebol' and all the female casts was given a hint while playing various games. At the final game,everyone had gotten new partners since the female casts all separated from male casts. Lee Yoo-ri was teamed with Ji Suk-jin. In their mission they had to find the chaebol's identity, then search for his name tag and attach it to the male teammate, and finally, at the end stand on the platform together. Yoo-ri and her partner unfortunately did not win, however. The winner of the game for this episode was Yoo Jae-suk and Kim Min-seo.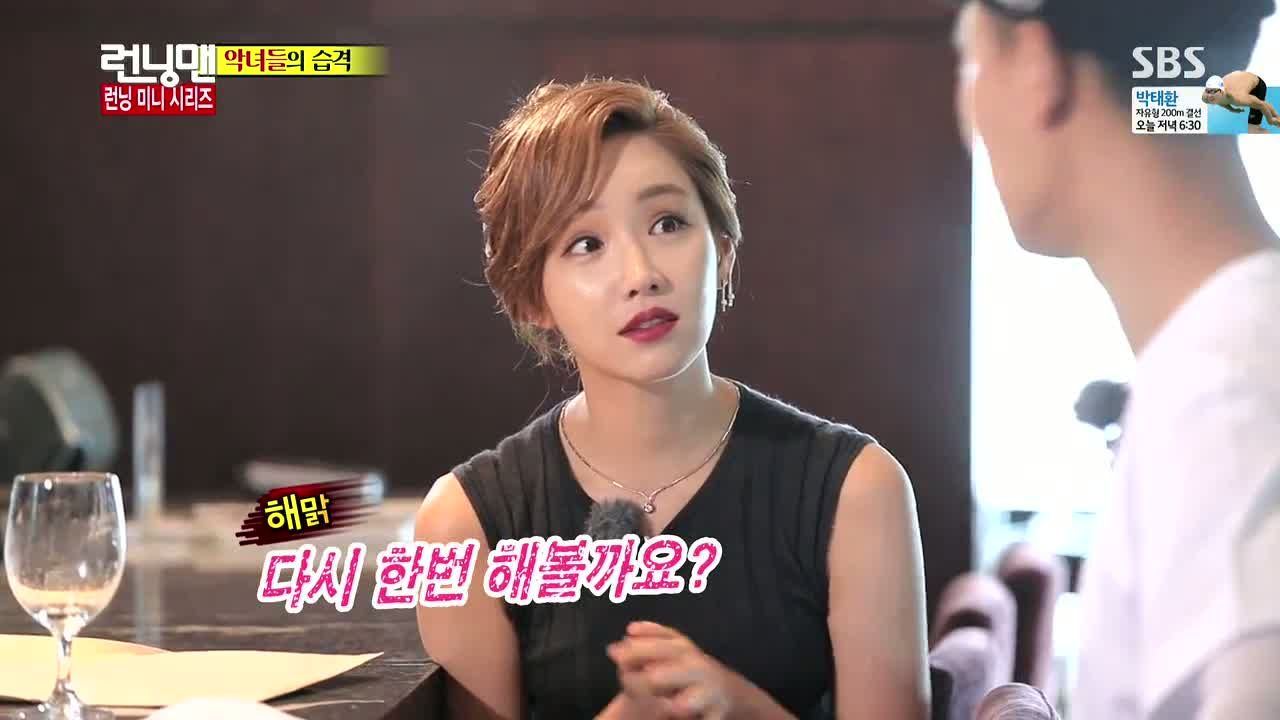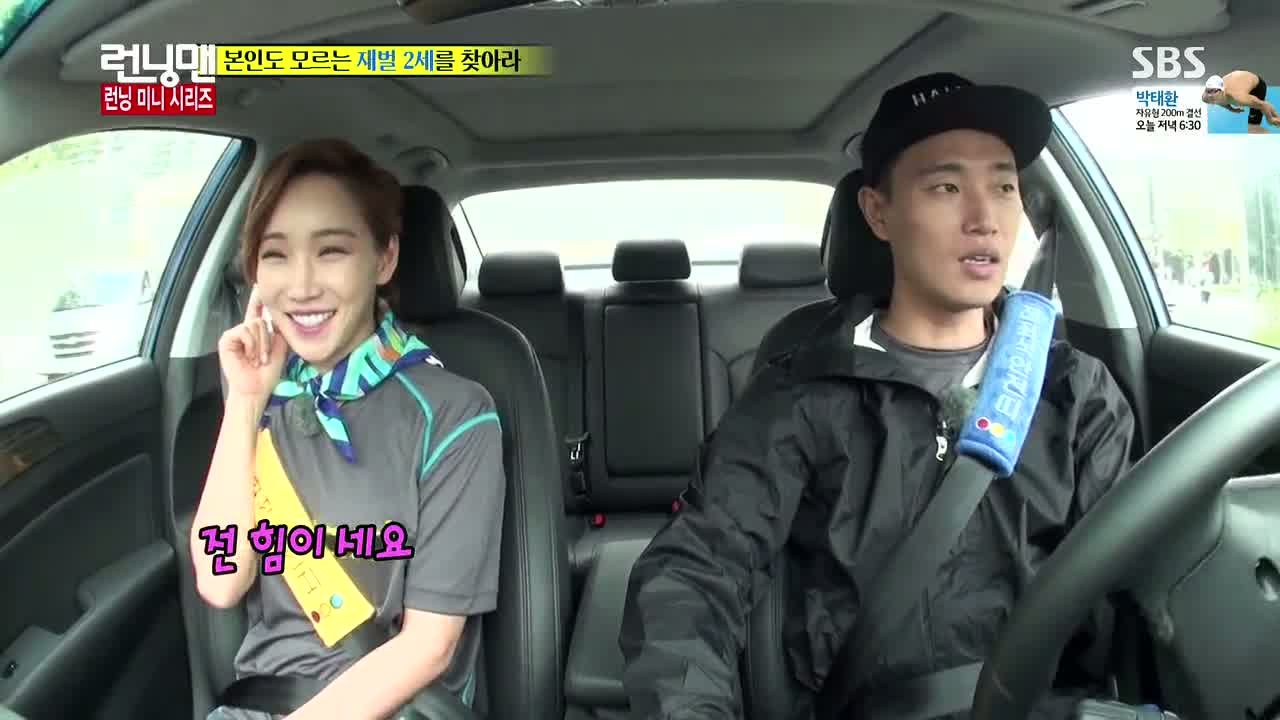 Lee Yoo-ri's Plastic Surgery
On Invisible Man. a variety show, Lee Yoo-ri was shown her debut photo from the drama School 4 (2001) which was when she was 21 years old. She admitted herself that the only difference between then and now is her face, and everything else was same.
What do you think? Do you think she has a plastic surgery or not?