Full Information About Lee Min-ho's Relationship and Dating Life
Lee Min-ho is a South Korean actor whose name is well known to Korean lovers around the world. Lee Min-ho was born in Seoul, South Korea on June 22, 1987. At the beginning of his career, he played a student in the drama Sharp. He initially gained widespread fame in Korea and certain parts of Asia with his role as Gu Jun-pyo in Boys Over Flowers in 2009. Apart from playing the main character in Boys Over Flowers, he also gained fame for his roles in City Hunter (2011) with Park Min-Young, The Heirs (2013) with Park Shin-Hye, and Legend of the Blue Sea (2016) with Jun Ji-Hyun.
Lee Min-ho's Ex-Girlfriend and Dating Rumors
Many women have been reported as being close with actor Lee Min-ho. He reportedly has had a romantic relationship with some South Korean actresses. Age does not seem to be an important factor when it comes to choosing a girlfriend since he is used to dating women of any age. Without further ado, here is a list of women who have been Lee Min-ho's girlfriend or a dating rumor!
Lee Min-ho With Park Min-Young
Park Min-young is one of Lee Min-ho's ex-girlfriends. She played in a drama series together with Lee Min-ho. They were stuck in a filming location together while starring in the drama City Hunter in 2011. Lee Min-ho was dating Park Min-young while they were acting together in the drama where they also had the role of lovers. But, unfortunately, the relationship between them ended too quickly since they broke up shortly after filming had finished.
After breaking up, Park Min-young deleted all of her tweets related to Lee Min-ho. But, it turns out that there was some good news to follow. Even though their relationship had run aground, it was reported that they frequently meet each other in secret. Even one of Park Min-young's friends said that they still loved each other at the time.
Lee Min-ho With Seolhyun AOA
Seolhyun AOA is another victim of Lee Min Ho's leading on. According to Seolhyun, the popular actor of Boys Over Flowers had treated her very well during filming, but then suddenly changed his attitude when filming was over. Initially, Lee Min-ho would make Seolhyun comfortable when on set. Lee Min-ho even had the chance to bring mosquito nets for the two of them to use. Unfortunately, the intimacy immediately changed after the production of the film ended, and soon the news of Lee Min-ho and Miss A officially dating started to circulate. However, the relationship between Lee Min-ho and Seolhyun AOA turned out to be nothing but a rumor, and they themselves have not reported having been dating.
Lee Min-ho With Bae Suzy
Bae Suzy is a former member of the girl group Miss A. Suzy is the most recent ex-girlfriend of Lee Min-ho. They broke up in 2017 when Lee Min-ho was undergoing his military service. Their relationship was quite long-lasting, about 3 years. They officially started dating in 2015. Before going out together, Lee Min-ho often asked Suzy's friend to help him meet Suzy, but Suzy repeatedly rejected Lee Min-ho.
However, in the end, Min-ho and Suzy ended up finally meeting each other. That's when Min-ho immediately fell in love with Suzy, and she was finally melted romantically by Lee Min-ho. The reason they broke up has been unclear; their agencies announced that the reason they broke up was that they were too busy to see each other.
After they broke up, Suzy confirmed dating actor Lee Dong-Wook, but their relationship has also ended.
Lee Min-ho With Taylor Swift
In September 2016, an unreasonable rumor that Lee Min-ho and Taylor Swift were dating circulated. This rumor originated from an article by Inquisitr. In the article, the author only expressed his opinion that Lee Min-ho had the potential to be Taylor's boyfriend after Tom Hiddleston. Suddenly, the matchmaking news made fans disagree, especially those who like Korean dramas. Swift seems to have a bad reputation because she often changes partners.
According to an official statement from Lee Min-ho's agency, the actor and Taylor do not know each other and have never met. Min-ho's management opened up on the matchmaking between the actor and Swift. "This is ridiculous, and we were so surprised by this," said one of Min-ho's management representatives.
Lee Min-ho With Kang Min Kyung
Rumors of a romance between Lee Min-ho and Kang Min Kyung circulated in 2009. At that time, Lee Min-ho was on the rise through the drama Boys Over Flower while Kang Min Kyung was also popular as a member of the Davichi duo. Photos of them being together also spread to the media.
However, Lee Min-ho explained that he was not dating Kang Min Kyung. Lee Min-ho and Kang Min Kyung have been friends since childhood. Lee Min-ho's representative explained, "It is true he was close to that artist, but those love rumors are not true."
Lee Min-ho With Yoon Ina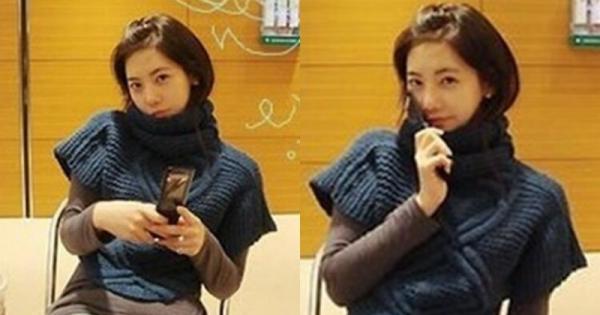 One of Lee Min-ho's ex-girlfriends who is often discussed is Yoon Ina. The actress who is ruled by In Star K Entertainment is a model for Wheesung's video clip, "Love Is Delicious." Not only did their intimate photos spread to the public, Lee Min-ho's message of love for Yoon Ina was also leaked in cyberspace. In the letter, the actor expressed his feelings for his lover with super romantic words.