Sweet Scenes
They have great chemistry in the drama with all the funny and romantic scenes. We have picked some sweet scenes that can make us smile and sometimes, are breathtaking. So check them out!
Even though they are not officially a couple (yet), one day, Dan-yi and Eun-ho share a sweet moment together. It is Dan-yi who asks Eun-ho to go out on the weekend because she has got paid and Eun-ho agrees. Along the way, they keep holding hands as Eun-ho easily takes Dan-yi's hand while they are walking the street. They visit a pub and play darts where Dan-yi shows her skill and wins. Then, they watch a luxurious jazz performance where Eun-ho knows the pianist. Next, they stop and watch a street performance on their way home. Eun-ho notices Dan-yi's hands are freezing as she keeps rubbing them so he initiates to hold her hand and put it in his coat pocket and stays like that for a while.
When Dan-yi asks for love advice from Eun-ho, he is being salty and answers in an unpleasant way that makes her upset. He immediately apologizes and makes an excuse that he is just in pain. Dan-yi extends her hand to check his fever on his forehead. Eun-ho says, "Not there. Right here," and moves her hand to her chest, trying to imply something. Unfortunately, Dan-yi misses the point and is actually distracted by the muscles underneath her palm hand. "Look at you, you're a man," she says. Eun-ho then reacts and pushes Dan-yi to the floor, with space only centimeters between their faces. He says, "Yes, I'm a man. Actually, a really great one," then gets up and heads to his bedroom, leaving the woman flustered on the floor.
Eun-ho drives Dan-yi to work but Dan-yi is worried that someone may see them and find out that they are dating. As she gets out of the car, she stops for a while showing an uneasy expression. Eun-ho who notices it, opens his car window and slides out. He calls Dan-yi and makes a heart with his arms, saying, "I love you!" Dan-yi gets surprised and urges him to go back in the car but then smiles as Eun-ho shoots hearts at her.
Seeing his girlfriend is having a bad day, Eun-ho decides to take a day off from work and gives Dan-yi three options. First, a boyfriend who shows his love with money. He shows her his credit card and tells her she can buy anything she wants. Second, a boyfriend who takes revenge on her behalf. He says he will pull his books out from the company and leave them in a tailspin for a month. Lastly, a boyfriend who stays with her all day long until she feels better. Dan-yi chooses the last option.
They have fun together at Eun-ho's place as they make tteokbokki (fish cake) together. Eun-ho can not let Dan-yi go as he always wraps his hands around her waist almost all the time. They playfully kiss and laugh while eating their tteokbokki. By the end, they read together while cuddling on the floor. Eun-ho closes the book as he finds Dan-yi has fallen asleep and hugs her. She then turns around and sleeps.
There is no romantic drama without a kiss! Here is the compilation of all their kiss scenes in the drama.
There are also many other romantic scenes between them so make sure you watch the drama and prepare to get flattered!
Getting Support From Lee Na-young
After announcing about his military enlistment date, Lee Jong-suk posted a picture revealing that Lee Na-young gave a surprise ahead before his enlistment on February 28th, 2019. She sent a food truck to the set of the drama and specifically addressed to Lee Jong-suk along with a sweet letter. As translated by Soompi, she wrote, "Eun-ho [Lee Jong-suk's character in the drama], when spring, summer, autumn, and winter have each passed twice [a reference to his two years of mandatory military service], a season with a beautiful moon will come. Be healthy!" and signed with "Dani Dani [her character in the drama]."
The actor posted on Instagram and write a caption, "Thank you, my noona… This is the first time I've ever received a food truck from a co-star…" And added, "My favorite number is 2Na0 [Read: Lee Na-young; 'Lee' is a Korean homophone for number 2 and 'Young' is a Korean homophone for zero]."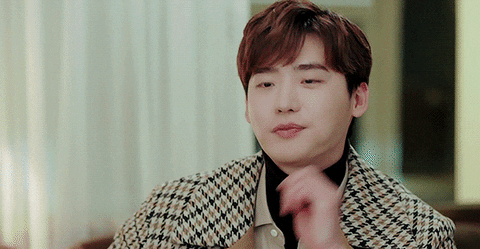 We wish the best for the actor and let's keep supporting him while waiting for his comeback!