Ha Sung-Woon
Real Name : Ha Sung Woon (하성운)
Stage Name : Sungwoon (성운)
Nicknames : Real Man
Position : Main Vocal
Birthdate : March 22nd, 1994
Birthplace : South Korea
Zodiac Sign : Aries
Nationality : Korean
Height : 167 cm (5'6″)
Weight : 55 kg (121 lbs)
Blood Type : A
Education : Broadcasting, Dongah Broadcasting High School
Languages : Korean, Chinese, Japanese
Instruments : N/A
Siblings : N/A
Social Networkings : Twitter / Instagram
Interesting facts about Ha Sung-Woon
"I'm in charge of HOTSHOT's voice."
Sungwoon auditioned for JYP Entertainment back in high school (2010) along with former I.B.I member Sohee, but failed to make the cut.
Sungwoon featured in the music video of Chad Future's "Famous".
Sungwoon is the type who never cleans up.
He mostly do the weird stuff like dancing funnily or acting cute forcefully.
He can produce sounds of a lot of popping and cracking sounds on his joints.
Can imitate how idol stars snooze and impersonate Rain.
Can imitate the Korean version of Sponge bob, Squid ward walking and laughing, and the sound of water dripping.
He's goofy and hilarious, the 'Happy Virus' of the group.
Hobbies : Billiards, Soccer, Gaming (with Taemin, Kai, Jimin).
Complex : Finger.
The past he wants to forget : Audition video.
First love : Elementary School (2nd grade).
Favorite things : Food (Pizza, Hamburger)
Happiest / Tough moment: Fanmeeting, First debut stage (rehearsal).
Special ability : Play Shiri, Singing, Soccer.
Attractive area : Abdominal flash.
Motto : "Don't worry", "I'll tear everything down".
Sungwoon participated in 'Produce 101 season 2'. He ranked on place 11th so he promoted with WANNA ONE for a while until the contract expired.
In order to show the best image of himself, Sungwoon dyed his hair to match the 'Never'
concept and dyed it again when he was transferred to the 'Showtime' team. Dedication
right there! (Produce 101 Season 2).
Despite being in Wanna One, it's said that Sungwoon monitors HOTSHOT during his free
time and also showed his support for them.
Gaining a new nickname as the bubblegum guy, Sungwoon caught the eyes of even non-fans with his chic appearance in the MV teaser (00:11) of 'Energetic'!
Sungwoon is an aunt of the group in Wanna One.
He hung out together with BTS' Jungkook and Jimin at 'Escape the Room' cafe in Apgujeong, Seoul, over the Lunar New Year break in February 2018.
Ideal type: "I like girls who can cook well and have pretty eyes. I like the kind of girls who have huge eyes and are cute."
 Yoon San
Real Name : Yoon Sanghyuk (윤상혁) / San Yoon (윤산)
Stage Name : San (산)
Nickname : N/A
Position : Main Rapper, Vocalist
Birthdate : August 22nd, 1994
Birthplace : South Korea
Zodiac Sign : Leo
Nationality : Korean
Height : 175 cm (5'9″)
Weight : 63 kg (139lbs)
Blood Type : AB
Education : Studied Design in France
Languages : Korean, French, Japanese
Instruments : N/A
Siblings : N/A
Social Networkings : Twitter / Instagram / Soundcloud
Interesting facts about Yoon San
"I'm in charge of the rap in HOTSHOT."
He was casted on the streets during his short visit to Korea and started as an idol trainee. (To be more exact he got scouted while drinking coffee during his vacation).
He appeared in Double K's "랩운동" MV.
He had lived in France for eight years in Paris. People of different races live there, so he naturally learned to speak four languages. He also majored in Design.
He speaks French, Spanish, and Japanese fluently.
He became a topic of conversation of an online community when it was shared that he once interned for a Chanel designer.
All his family members are involved in the art industry.
He loves cheeseburgers.
Complex : Large Head
The past he wants to forget : Cosplay
Bad luck : "When I have to dance".
Favorite things : Rap, writing songs, listening to music, cheese and sushi.
Things he dislikes : "When people nag me to do something I don't want to do".
Happiest / Tough moment : When playing with Hojung / When teasing Hojung until he's angry, When Hojung is not here / When Hojung ate chicken's breast.
His hobbies solving the rubik's cube, playing games, rapping.
He has a total poker face.
He's sometimes so awkward that it's adorable and funny.
He is really into computer games as well.
Motto : "Follow your heart", "TRUE", "Keep It 1HUNNIT".
Can do beatboxing and make various facial expressions.
Can perfectly imitate Megatron's voice.
Ideal type: "I like girls who are sexy. It would be good, if she can accept my personality and doesn't nag a lot."
 Ko Ho-Jung
Real Name : Go Ho  Jung (고호정)
Stage Name : Hojung (호정)
Nicknames : Hoglet (호글렛)
Position : Lead Vocalist, Dancer, Maknae, Visual
Birthdate : October 20th, 1994
Birthplace : South Korea
Zodiac Sign : Libra
Nationality : Korean
Height : 180 cm (5'11")
Weight : 65 kg (143 lbs)
Blood Type : O
Education : Practical Music, Hanlim Ent. Art
Languages : Korean, Japanese, Thai
Instruments : Guitar, Piano
Favorite Color : Purple
Favorite Drink: Cola
Siblings : N/A
Social Networkings : Instagram
Interesting facts about Ko Ho-Jung
"I'm HOTSHOT's youngest member and in charge of aegyo."
He was casted while walking on the streets.
He used to be called K.HO.
He appeared in Double K's "랩운동" MV.
He messes things up after cleaning. He leaves his footprints behind as he cleans the floor.
He is from Yeosu, South Jeolla Province.
He lived in Thailand.
He can speak Korean, Japanese, Thai.
He has great eye smile.
He has the nicest body in HOTSHOT.
He winks a lot and has amazing abs.
He's really into body building; he actually participated in a Musclemania competition in 2017 and even won an award!
He's very confident.
"I have a habit of touching the end of the pillow while I'm sleeping. They say it's because of a lack of affection, but I'm not too sure. It just helps my peace of mind."
He joined "KBS's The Unit : Idol Rebooting Project" together with Timoteo and ranked in 3rd place on the finale episode. He joined the temporary group called 'UNB' that was formed by the show.
Hojung said that he had one small regret while appearing on 'The Unit' and revealed,
"To tell the truth, I'm less attractive when I open my mouth, so I tried not to be
talkative. Perhaps because of that, I didn't get a lot of screen time, so I felt a bit
of regret."
On placing third in the finale and securing himself a spot on the debut project group,
Hojung said, "I didn't expect the results at all. The moment I got called as third
place, I had mixed emotions. I will work harder for HOTSHOT."
Ideal type : "To be precise, the kind of style similar to actress Han Yeseul, a girl with a small face and distinct features."
HOTSHOT Members Popularity Ranking
HOTSHOT consists of 6 members with different charms and tastes yet well-blended diversity. With their strong impressions and unique way of promotion, before officially debuting, they became one of the most anticipated newly debuted groups for 2015, according to reports. They also held so many fan signing events in Korea and Japan, therefore they naturally created a growing fan base of over 2,000 fans.
Unlike most rookies, their debut song immediately rose up on the Korean chart, peaking at number twenty. Their next two mini-albums, both released in 2015, also did very well on the charts as well. But their popularity had slowly decreased as the competition was getting fierce in KPOP world. It didn't mean they have less talent and didn't work as hard as other groups, they definitely had the potential but just didn't stand out enough.
Despite being severely underrated, they were always doing their best to show a professional image and would do everything it takes to get the fame back. Their talent is obviously WOW, but overlooked. As a result, to lower their chances of disbanding, Taehyun and Sungwoon decided to join "MNET's Produce 101 : Season 2" and successfully garnered viewers' attention by showing their astonishing talents in every performances. Both of them left the judges and other contestants wondering why their group did not find success since they were so talented.
Sungwoon was the one who got benefited the most from the show, as he dramatically emerged as one of the final members to debut in the new boy group, WANNA ONE, as the 11th member. He naturally became the most famous member of HOTSHOT because of his achievement through the show. On top of that, he is also known for his solid networks and connections! Even when he used to be a nobody, he was already friends with SHINee, EXO, BTS and VIXX.
Meanwhile Taehyun, although he is said to be the best dancer among other contestants, was unfortunately got eliminated and ranked 25th overall on the show. But it didn't stop there, because he eventually joined 'JBJ' and became the leader of the group (it was reported that the group's contract would last seven months). He is also widely known by fans as a dance prodigy.
Therefore Taehyun becomes the 2nd most popular member of HOTSHOT.
Life is indeed so unfair, even after HOTSHOT made a comeback with Taehyun as their representative, they once again felt it wasn't enough. Therefore the members reached for another opportunity for them to rise up, by joining "KBS's The Unit : Idol Rebooting Project". Began in October 2017, Timoteo and Hojung participated in the show and captivated the audience on their audition. They got a 'super boot', which was a rare occurrence on the show (a 'super boot' refers to when at least 90 percent of the audience votes for the participants, allowing them to pass without the judges' votes).
Timoteo secured the top ranks steadily every time the ranks were announced, but on the finale episode, Hojung unexpectedly beat him down by ranking 3rd and joining the final temporary group, whereas Timoteo didn't make it through (10th place). However, as the show was being criticized due to boring editing and losing its purpose for rebooting the failed idols, The Unit drastically lost their popularity. After the first two episodes, the ratings dropped and kept dropping until the 2% range. Pretty sad, especially if you compare it with 'Produce 101' that had a 5% rating by the end, even though it was on cable. That's why we can assume that Hojung's and Timoteo's popularity are no better than Taehyun and Sungwoon.
In case for Junhyuk and Yoonsan who didn't join any survival shows, their popularity is less known than the rest of members. But of course it doesn't matter that much since their group now is gaining more recognition thanks to the four members who mustered up the courage to compete on the shows! At this point, let's all just wish the best for HOTSHOT, and you better don't sleep on them 😉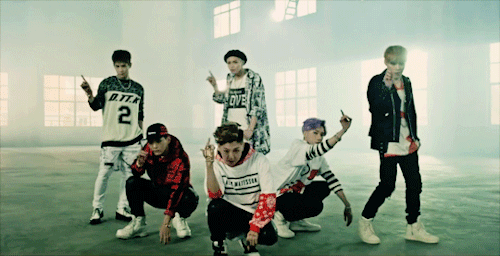 More Trivias About HOTSHOT Members
They worked with a webtoon artist to create a webtoon based on their journey to debuting. It was viewed over 500,000 times before their official debut.
The lyrics of their debut track "Take A Shot" was written by the members themselves.
They got involved in a car accident in December 2014. According to a representative from HOTSHOT's agency, the group was traveling to Ilsan when their vehicle got rear-ended at 6:20 PM KST on December 6. Fortunately, no one was seriously injured and the members attended the fan signing event at 7:00 PM KST. The group was taken to the hospital after the event to check for post-accident concussions and for treatment of other minor injuries.
Not long after Taehyun got eliminated, the group made a comeback in July 2017 with a new single "Jelly" with only five members, while Sungwoon promotes with Wanna One. Sungwoon is the brightest character in the group, so without him in the group they decided to chose 'Jelly' which has a very dark concept.
The group is known for not being a group with a concept, but one consisting of perfectly skilled members that are worth anticipating. Most notably, all members helped produce their debut song. Watch their cool debut MV below!