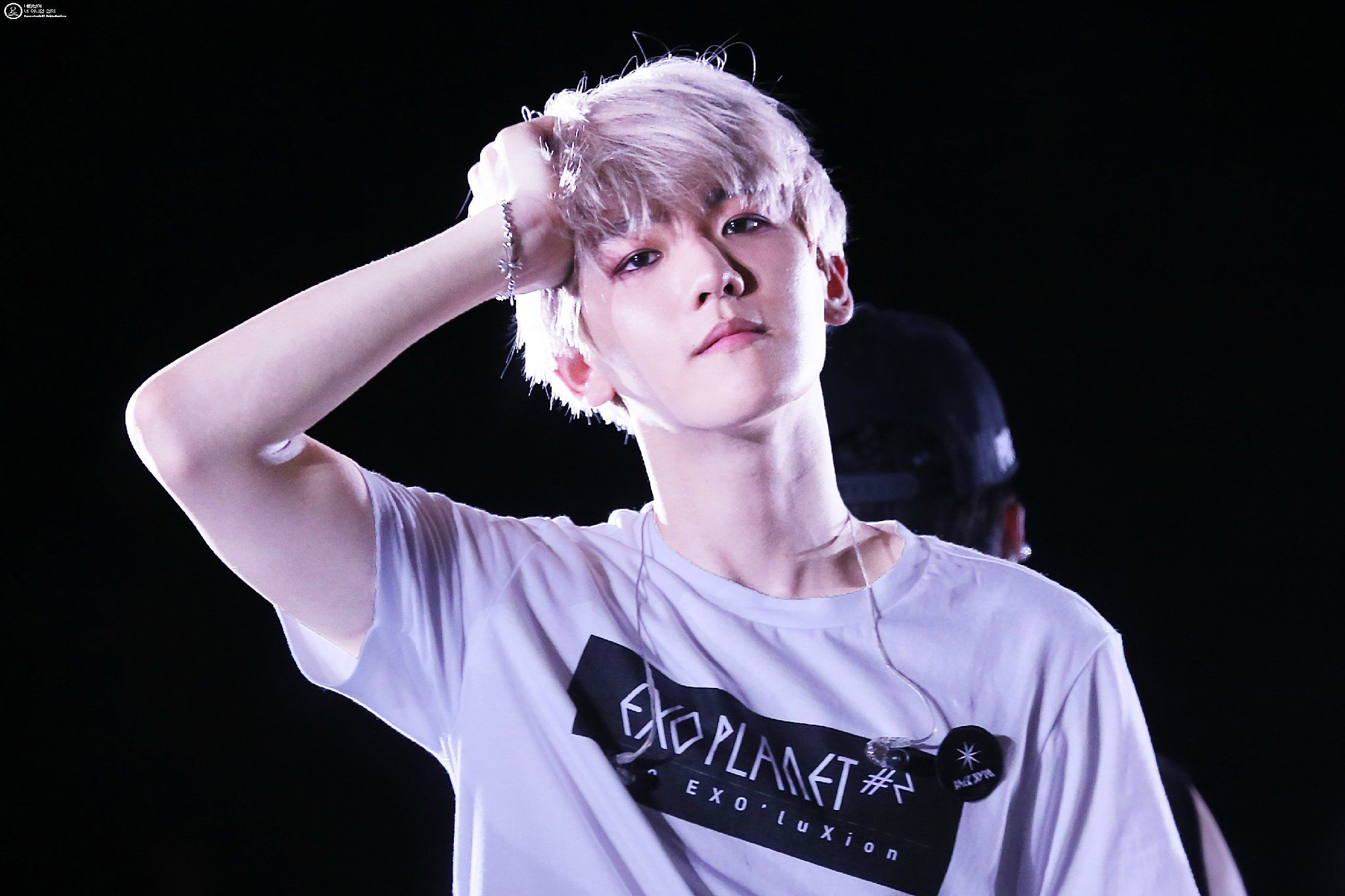 Who is Baekhyun?
Baekhyun is a member of a famous group called EXO. He is in charge of main vocals in the group and is also a Mood Maker. EXO's concept is a group of guys who have super powers. Baekhyun's power is light. Baekhyun is the most popular member among fans because he is cute yet handsome. His outgoing personality also makes his fans love him even more.
EXO's Baekhyun's Profile
Stage Name: Baekhyun (백현)
Birth Name: Byun Baekhyun (변백현)
Nickname: Bacon, Beef
Birth Date: May 6 1992
Nationality: Korean
Position: Main Vocalist
Sub-unit: EXO-K, EXO-CBX
Blood Type: O
Astrological Zodiac Sign: Taurus
Height: 174 cm / 5 feet 8 inches
Weight: 58 kg / 128 lbs
Family : Father, mother and older brother
Education: Jungwon High School
Super power in EXO: Light
Personality: Bright, cheerful, kind, loves to socialize, likes making new friends
Speciality: Hapkido and piano
Hobbies: Listening to music, watching movies, singing, hapkido, playing the piano
Motto: "Life is only a path full of efforts"
Ideal Type: "A girl is someone full of charm. Someone who is cute, polite, not too tall, and has pale skin". He also likes girls whose clothes have a nice smell after they are washed.
Instagram : @baekhyunee_exo
EXO's Baekhyun's Favorites
Favorite Number: 48
Favorite Colors: Black, white, and gray
Favorite Places: Practice room
Favorite Foods: He likes all foods – Korean food, Japanese food, Chinese food, and Western food
Favorite fruit: Strawberries
Favorite Musics: Pop music, R&B, and punk rock
Favorite Movie Genres: Sci-Fi, fantasy and action movies
Favorite Fashion: Casual
Favorite Artist: Rain
EXO's Baekhyun's Facts
EXO's Baekhyun's Facts :
Baekhyun was born in Bucheon, Gyeonggi-do, South Korea
He has an older brother (7 years older than him)
His brother's name is Byun Baek-beom
His brother would give him pocket money when he was a high school student
When they were children, Baekhyun's mother often asked Baekhyun and his brother to go shopping
Baekhyun is the youngest in the family, and there is a 7 year age gap between him and his brother so he acts like the daughter, and his mom thinks it's cute
He thinks that he's naturally cute
He also thinks that he is really good at aegyo (acting cute)
Baekhyun has learned hapkido since he was a kid
His hapkido playing is at the level where he can teach other kids hapkido
He started his dream to become a singer in fourth grade in elementary school; he told his friends that he would become a singer. And here is he right now, one of the members of a popular group
Baekhyun had a dog when he was in his first year of middle school. His dog was a dachshund
Baekhyun's dog was called Chorong. When Chorong was 2 years old he got sick and would always throw up whatever he ate. Baekhyun took him to the vet for a check-up and found out that he had a kidney failure. They could not cure him and he died of illness.
If he couldn't achieve his dream of being a singer, being a student in an art university would be enough for Baekhyun
Baekhyun has been joining singing competitions since he was in elementary school
He joined the school's band and they won an award at local rock festival
One of the members in his band was a girl
In school Baekhyun often made a cute voice, imitating someone so that his friends would laugh and applaud him
One of Baekhyun's hobbies is to make his friends laugh
He was scouted by an SM casting agent while he was studying for his university entrance exam
Baekhyun has actually been rejected by a lot of companies and he thinks that it is a miracle that got scouted by SM Entertainment
He had a short trainee period, around 1 year
At first, SM's choreographer doubted he could teach Baekhyun because he only had short training period
He said that the first time he learned dance seriously was when he first got into SM, where a teacher taught him to do some moves
Before his debut, Baekhyun practiced his dance moves in front of the mirror before he went to sleep
Because of his short trainee period, Baekhyun had a way of getting close to his fellow group members; on Knowing Brother, he said that he would take a shower with them
When Chanyeol met Baekhyun and Chen the first time he thought that they looked more confident than the existing group members
SM introduced him as an EXO member on January 30 2012
He sang EXO's prologue single What is Love with D.O
Suho was the first one who cared for Baekhyun, but the one that got him to open up was Chanyeol
He has been really close with Chanyeol since being a trainee. Chanyeol would walk him home or to the subway.
Baekhyun said that he gets along well with Chanyeol because they have similar personalities
He is also close with Tao. He says that he communicated with Tao through body language because of their language barrier.
Baekhyun helped Tao to learn Korean since his pre-debut days
He asked Chanyeol to teach him rap, and asked Kai to teach him dance because he has a lot of determination; he wants to be a multi-talented idol
When Baekhyun first met Kai, he thought Kai was older than he was
Kai said Baekhyun has a talent for dance
Kai said that it is so hard for Baekhyun to stay still, he is always moving
Chanyeol said that Baekhyun yelps like a dog 40 times before going to sleep
Due to his playful personality, he liked to tease the maknaes Tao and Sehun during trainee days
Actually, Baekhyun still teases Sehun a lot. He even bites Sehun's arm and butt
Baekhyun is a really sensitive person even though he is cheerful and smiles a lot
The first song he practiced after becoming a trainee was Old Song by Kim Dong-ryul
Baekhyun's favorite song is Farewell Review. He said this song has a deep meaning for him.
He likes humming his favorite song whenever he gets bored
He likes pop songs that have slow rhythms
He has a pretty hands. His fingers are slim and slender.
During his debut days he used lots of eye-liner
He starts trends with his eyeliner makeup
Baekhyun is well known for having some of the best eye make up among idols
Baekhyun said he wants to be 12 years old again, because during that time he ate a lot to grow taller, but in the end he didn't really grow any taller. He was convinced that because he ate too much, his body sank because it was too heavy, so he didn't grow taller
He wishes he could grow taller
Baekhyun's lucky charm is his bracelet that was given to him by a noona during a slump he had before the comeback. He had many worries and had many thoughts. The noona gave him the bracelet and told him to become the fearless Baekhyun he once was.
If Baekhyun had a sister, he wouldn't introduce her to Kai because Kai is slightly cold
He says the only member he would introduce to his sister is Suho. He is mature, smart, a model student, and a leader
He is jealous of Suho's eyebrows
At first Baekhyun thought that Suho was a fierce leader but now he sees Suho as a calm leader
He really adores Suho because he thinks Suho is so cool
Suho said that Sehun is the maknae, but it is harder to take care of Baekhyun than Sehun
Baekhyun has lots of fansites, about 400
He's got a lot of branded clothes, watches, and electronic devices from his fansite
He is the EXO member who receives the most presents from fans
He gets a lot of advice from TVXQ's Yunho
Baekhyun introduced his dog on Instagram. His dog's name is Mongryoung.
Baekhyun invented the popular catchphrase "kkaepsong". "Kkaepsong" means "that's a pity".
He's the best member of EXO in variety shows
He learned to impersonate voices because he wanted to do well in variety shows
He wants to appear in Running Man and Strong Heart
Baekhyun thinks that he's really good at imitating people
He often practices his facial expressions in front of the mirror after showering
Baekhyun is a Mood Maker in the group. Everyone is happy if Baekhyun is around them
He says that if he encounters problems, he's very vocal about it to his managers or to the people at SM Entertainment's training department
Baekhyun is afraid of heights
His friends called him a coward because he closes his eyes when he rides rollercoasters
He doesn't like cucumber, he says "I really hate cucumbers, if theres a cucumber on the table, I can't eat because I can't stand the smell"