8. This is a screen shot of a scene from the drama Healer. Ji Chang-wook is changing his clothes, giving us another fine view of his muscles and abs.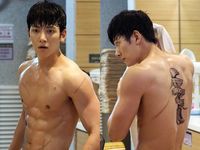 9. Healer and K2 gave Ji Chang-wook the perfect platforms to explore his acting skills. Since then, he's had opportunities for learning different martial tactics for his roles, which has only served to help improve the view even more.
10. 
Another scene from K2. Ji Chang-wook is changing his clothes again, showing his muscles.
11. This photo is from the Bachelor's Vegetable Store drama, featuring a shirtless Ji Chang-wook, and comes from a recent shoot in a marketplace.
12.This picture is from the drama Empress Ki. Ji Chang Wook is showing his abs again in one of the scenes.
13. Half body photo of Ji Chang-wook, showing off his muscles.
14. Ji Chang-wook as a brand ambassador for Cass Fresh. He even reveals his abs in a commercial!
15. Finally, a selfie from Ji Chang-wook!